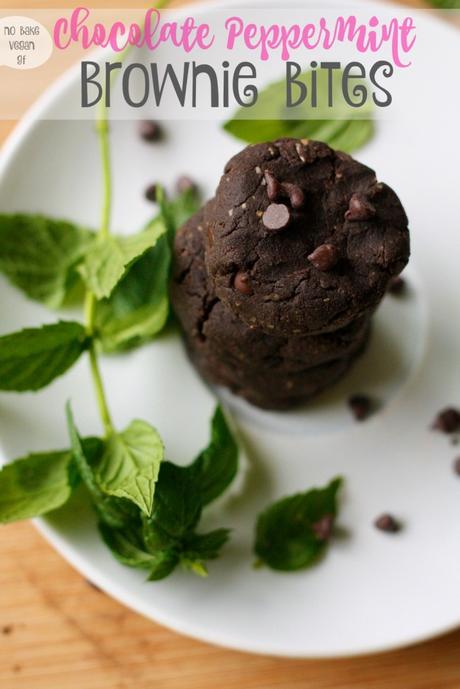 Happy Friday peeps! Today I want to share with you my newest creation. A no bake cookie loaded with lots of goodies and healthy plant protein! They are allergy friendly as well, meaning no dairy, soy, or gluten! Whoop! Whoop! I am always looking for convenient on the go breakfast or snack ideas that taste good and that are kid approved. Well my daughter thinks these are cookies, so I think we are good!
Vegan Gluten Free Chocolate Peppermint Brownie Bites
Ingredients:
2/3 C. GF Oat Flour (I grind my own oats in Vitamin... can also sub out other flour if you like)
1/2 C. Protein Powder of choice (I used Vega Protein and Greens this time in Vanilla)
1/8 C. Nutiva Coconut Flour
1/4 C. Cocoa Powder
1/4 C. (plus 1 T. set aside) Nutiva Coconut Oil plus (in slightly liquid form, but not warm)
2 1/2 t. Peppermint flavor oil
1/3 C. Maple Syrup
1/4 C. Non-dairy milk (I use coconut milk) more or less depending on how dry the dough is
1/3 C. Chocolate Chips to Melt (I use Enjoy Life dairy free soy free chips)
1/3 C. Chocolate Chips to mix in
Directions:
Mix together Oat Flour, Protein Powder, Coconut Flour, Cocoa Powder. Set aside. Melt 1/3 C. Chocolate Chips and 1 T. Coconut Oil... either stove top or in the microwave until liquid (careful not to burn!)
Stir in melted chocolate, remaining coconut oil, peppermint oil, maple syrup, and gradually add non dairy milk last, adding more or less milk if needed, should be a cookie dough texture. Stir in chocolate chips. Scoop small 1 1/2 inch spoonfuls and make into balls. Gently press down with fork to make cookie shapes pressing along the edges to keep the shape. Can also leave in ball form for convenience. Do not make larger sized balls they have the potential of losing shape.
Just grab a few extra if you are hungry! What are your go to snacks that are quick and healthy??? Please share I would love more options!
Enjoy!