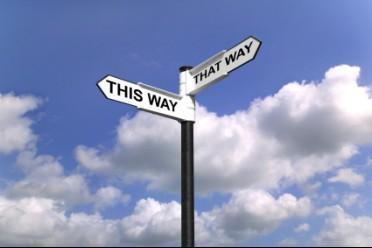 Neuro Linguistic Programming or NLP is a method to use your thoughts and actions to achieve what you really want in life. NLP believes that you can achieve anything you want if you apply your mind to it. Law of attraction also focuses on the same principle which says that whatever you will think of, you will attract. NLP and law of attraction, both stress upon the importance of keeping a positive attitude in life, focussing on positive intentions and outcomes and generally achieving a balanced and a happy life. So, what is the real connection between NLP and law of attraction?
The connection between law of attraction and NLP is that while law of attraction tells you to attract happiness into your life, NLP is the technique to do that.
Law of attraction has three steps:1. Conceive or Ask2. Believe3. Achieve
1. Conceive or Ask: Conception or asking is the first step of law of attraction. You need to first state the your intention for a certain outcome. Most people know what they want but have already thought and conceived the road blocks in their plan before actually charting out the course of action! Most people subconsciously feel that they are not worthy of achieving happiness and wealth no matter what they do. Their limiting beliefs prevent them from achieving their goals in life. Hence just stating your intention to the universe is not enough, you need to believe in it to achieve it! Here NLP is a great tool in manifesting the law of attraction. NLP works at dispelling your subconscious beliefs about your abilities and competence. NLP operates on dispelling these beliefs and clearing the clutter in your subconscious mind.
2. Believe: NLP helps you to believe in the power of your thoughts. While law of attraction is the principle, NLP is the method to achieve your aim. NLP reprograms your mind and makes you believe in your ability to manifest your desires
3. Achieve: Law of attraction says that you can attract all that you want in life. However, we need to be open to receive it and acknowledge it. NLP makes us believe that we are capable and competent of receiving what we ask for.
Law of attraction demands that you visualize your outcome and focus on the happy feelings. It says that you need to use positive emotions to express your desires. NLP focuses on the positive vibrations and feelings. NLP teaches you how to visualize your dreams and desires so that they become real. Visualization is the first step to manifestation. Hence, you need to visualize in order to attract the kind of life you want.
NLP and law of attraction are the two sides of the same coin. Each is dependent on the other. It wont be wrong to say that while law of attraction is the principle, NLP is the method to make that principle work. Together they can give you a great life!

Author: Chris DreyerArticle Source: EzineArticles.com
© 2011, ©Active Consultants 2011. All rights reserved. Copying in part or in entirety only permitted by written consent
Republished by Blog Post Promoter