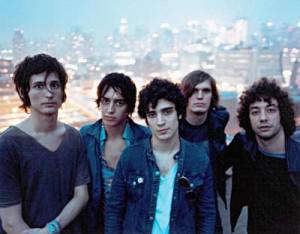 When I was 16 years old, I wrote a Letter to the Editor to Spin Magazine. It was the first and last time I have ever done anything like that. It was printed. Not only was it printed, but it was boldly displayed as the pull quote on the Letter to the Editor page. In Spin Magazine (at least at this point in 2005), this space was usually reserved for one of the more outlandish or ridiculous assertions made by a reader that month. Getting my Letter to the Editor printed was my proudest moments as an aspiring writer, and probably to this day the most widely read sentence I've ever written. But at the same time it hurt my feelings that what I had written was considered so ridiculous it had to be blown up and splashed across the page in a "get a load of this guy" font.
I had written that one day The Strokes' debut album Is This It and Nirvana's Nevermind would be seen as complementary pieces. I wrote that the two bands' careers would be intertwined forever, not because of the substance of their music but because of when their music came along and what it represented. Apparently the Spin Magazine editorial staff circa 2005 found this to be patently absurd. Smash cut to 2011: I think I was right. Actually, I was downright prescient.
This year marked the 20th and 10th anniversaries for Nevermind and Is This It, respectively. Both records were made by fledgling bands with nothing to prove. Both bands' debut albums sound like a perfectly preserved time capsule of their eras. Is it possible to hear the opening bars of "Smells Like Teen Spirit" without imagining yourself at the age you first heard it, with all the pain and wistfulness that brings? And what of Strokes' songs like "Someday" or "Last Nite?"  That is the sound of an ever so-slight pre-9/11 New York City. It's a sound and a time no one will ever have again. That nostalgia and sense of loss has permanently frozen that album in 2001, where those songs will live forever in a more innocent age.
Both bands' sophomore albums (In Utero and Room On Fire) were burdened by impossible expectations of a repeat performance, and both were quite good but summarily dismissed at the time of their release, only to gain critical traction later.
Both bands released their much-ballyhooed debut albums at a time of great change in music culture. Nevermind is credited with slaying bloated, excessive 1980s hair metal, and Is This It is similarly hailed for stopping the asinine post-grunge of Limp Bizkit and opening the door for that too-brief garage rock revival.  (I was at the perfect age to get into rock music in 2001 when this all happened, and I can say that it was a legitimately exciting, fresh and daring time. For a brief moment, The Strokes and The Vines co-existed on modern rock radio with Creed. It felt like a real change was happening. One day someone, maybe me, will write a great oral history of this period.)
Nirvana and The Strokes' legacies have diverged somewhat. Nirvana will remain the great "what-if" of music, haunted by can-you-imagine-if-Mickey-Mantle-hadn't-torn-his-knee-when-he-was-19 type lingering questions. The Strokes, on the other hand, have released four albums, each worse than the last and increasingly marred by a swirl of solo projects and infighting. (Julian Casablancas, the mercurial singer-songwriter for The Strokes, has often been criticized for using a vocal filter on their earlier work that makes him sound like he's crooning to you through the order box at a McDonald's drive-through. For their most recent album, he couldn't even be in the same room with the rest of the band and literally phoned his vocals in. That's either a fucking great jab at his critics or that band is done.)
In the end, I think I was right back when I wrote my Letter to the Editor. These records are hardly even music recordings anymore; they're more like rock formations. They've become part of  the landscape, to the point where you can't remember the horizon without them. They are so vital to telling the story of rock that you have to begin a discussion about a whole decade of music with those two albums. What else can claim that, in any art form? Is This It and Nevermind didn't happen during their time; they ended up being their time.