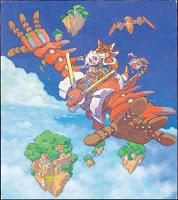 The Nintendo DS isn't totally dead, but looking at its near empty release schedule, it hasn't got long. Here's your to-do list before you can allow yourself to switch to 3DS
:
#1
We've talked about Solatorobo: Red the hunter before, but back then we didn't know how good it was! The good news is that the title is on its way to the US: it will be released in september.
The variety of the gameplay is pretty astounding for a portable title, and the production values are top notch, as the following video shows:
#2
Level-5 demonstrated with the latest Dragon Quests that they know their way around ultratraditional jRPGs. Turns out they can do a bit more than copy-paste 20 year-old templates:
Inazuma Eleven
mixes jRPG and... soccer, and the way you recruit team members is similar to Pokémon.
You'll have to import this one from Europe, because obviously no self respecting US citizen was ever goint to give a shit about soccer.