I received this book for free from NetGalley in exchange for an honest review. This does not affect my opinion of the book or the content of my review.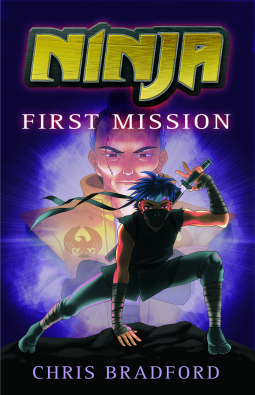 Ninja: First Mission
by Chris Bradford
Published by
Myrick Marketing & Media, Stoke Books on May 16 2012
Genres:
Adventure, juvenile
Pages:
51
Format:
eBook
Source:
NetGalley
Goodreads

Description: Interest Age, 11+, Reading Age 3rd Grade. Taka is desperate to prove that he has what it takes to become a ninja but he has failed the Grandmaster's test twice already. When the clan's scrolls are stolen by an enemy samurai, he has a chance to prove himself. A stunning martial arts tale with a great message about perseverance and self-belief.
This terrifically taut and short novel is targeted for reluctant/struggling readers or children with dyslexia. The interest level is aged 11 and up, while it is at a 3rd grade reading level.Lexile Level: 650
I found this to be a quick fun read. The book definitely is geared towards the younger reader, say about a 3rd/4th grade reading level. So this book is a fairly short one, but the message sent through this book packs a pretty good punch. Taka as a young Ninja wanna be is desperate to advance to become a Ninja. Though due the fact that he failed the first time, and thanks to some bullies he is afraid he is not cut out to be a Ninja. But circumstances arise and Taka along with his friend Cho rise to the occasion, and prove that to do the right thing you don't have to be a Ninja. The message of not giving up and pursuing your goals no matter if you have a set back I think is a great message to send to kids, even if they can not see the message from the book that they are reading. This book is on my list to pass along to my 3rd grade daughter who I thing will also enjoy the story.