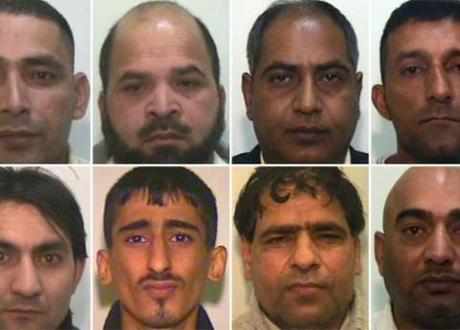 The nine convicted men. Photo AFP
The background
Nine Muslim men from the Greater Manchester area have been convicted of being part of a child explotation ring, reported the BBC, which began in 2008. After a ten-week trial they were charged with rape, trafficking girls for sex, and conspiracy to engage in sexual activity with a child – one was 13 years old; the oldest 15. The girls were given alcohol and drugs, and some were beaten, and forced to have sex with many men in a week – one even with 20 men in one night. The defendants were Asian, and the girls white, and from poor backgrounds, which has caused far-right groups to protest. Police, however, claim that the "grooming" wasn't racially motivated. There was a failed investigation in 2008 after one of the girls became pregnant by a defendant – the police, however, didn't bring her case to trial.
The Huffington Post reported that the father of one of the victims joined the BNP after what had happened to his daughter. The conviction of the nine men comes in the same week as allegations of widespread abuse of girls in children's homes in the Rochdale and Manchester area, reported The Times. Commentators are split between whether race is an issue or not. The case has brought up a great deal of emotion: some argue that yes, of course race is an issue; others say that the attacks were not racially motivated, and that the men are simply evil.
Periscope Post looked at the issue last year.
Of course race is central
Mohammed Shafiq, chief executive of of the Ramadhan Foundation, said, quoted on the BBC, "There is a significant problem for the British Pakistani community. There should be no silence in addressing the issue of race as this is central to the actions of these criminals. They think that white teenage girls are worthless and can be abused without a second thought; it is this sort of behavior that is bringing shame on our community."
It's more complicated than that
Ella Cockbain and Helen Brayle on The Guardian's Comment is free said that the defendants were "at most nominally Muslim", as practicing Muslims "aren't supposed to have sex with children." And when you look into the numbers, such as a 2011 study of "localised grooming", you'll see (from admittedly "patchy data") that 49 per cent of one third of the offenders (the only stats available) were white, and 46 per cent Asian. And in Britain, where Asians are only 7 per cent of the population, "this is a striking figure." Even so, we shouldn't be blinded by prejudice – instead the police should improve their methods, and people should not be "afraid to speak up."
We should speak up about such crimes – even when race is an issue
Yasmin Alibhai-Brown in The Independent was outraged: we should speak openly about such crimes. The defendants were "good" Muslims, who prayed and fasted, but prowled and preyed at night. And what's worse is that in those communities the girls will be seen as to blame, as "trash". And that's not to mention all the girls who are abused within families. But let's not forget that white men commit such crimes too – and that the North-West's Chief Crown Prosecutor is Nazir Afzal, a Muslim of Pakistani origin. And most of all, let us not let race get in the way of the issue of these girls' lives.
"It weren't me any more. It just became like something I had to do and I just couldn't get out of it. Like once you're in it you're trapped. It just became like a daily life," said one of the victims, quoted on The Daily Mail.
They're not racist – and it's feed for far-right groups
Sunny Hundal on Liberal Conspiracy said that we shouldn't think for a second that these heinous men wouldn't do the same to white girls. The fact is, "they have no respoect for any women of any race." Unfortunately, though, this case is being used by the far right groups BNP and EDL for their own agendas.