I don't know why I downloaded 9 1/2 Weeks. I think it's because I've always been interested in what Mickey Rourke was like before he destroyed his face and went bonkers nuts. He starred in another movie, based on Charles Bukowski, but I can never remember the name of it when it comes time to download something.
I would never have finished 9 1/2 Weeks if I had not been on a four hour flight with nothing else to do. (PS newsflash to failing airlines: I will like you a lot better if you install mini-televisions in your seats so that I can watch Bravo TV. Thank you.)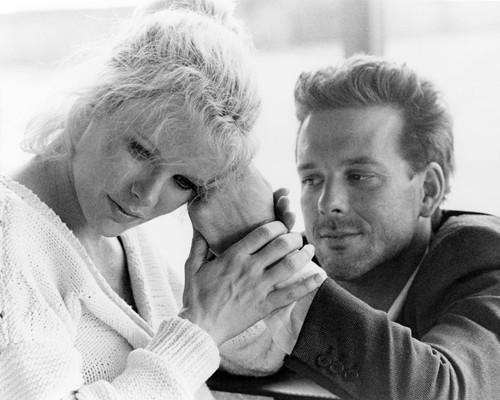 Because 9 1/2 weeks is like "Fifty Shades of Gray" for the 1980s. When it's sexual, it's not sexual enough to make up for the fact that it's a kitschy piece of crap occasionally dramatized by a soundtrack heavily laden with wooden flutes. Watching it was kind of like hearing my sister read "Fifty Shades of Gray" out loud while stuck on the Major Deegan, which actually did happen to me. I feel minorly intrigued by the interesting sexual acts, but then I get disgusted on behalf of women universally.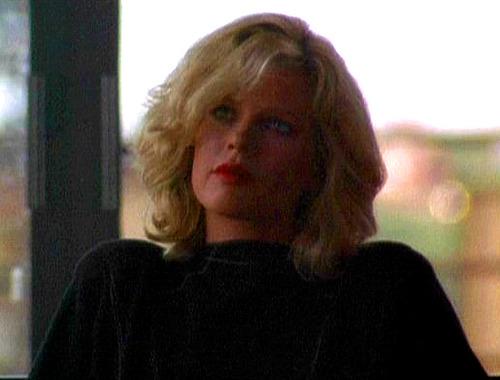 The only redeeming factor of the entire film is that the two main characters — played by Kim Basinger and the aforementioned Mickey Rourke — are almost impossibly gorgeous. Or rather, Kim Basinger is. Because even though Mickey Rourke was pretty handsome, whenever I look at him, I immediately have a flash forward moment when I see his face transformed to what it looks like today. Sort of like a time lapse video of the victim of an acid attack.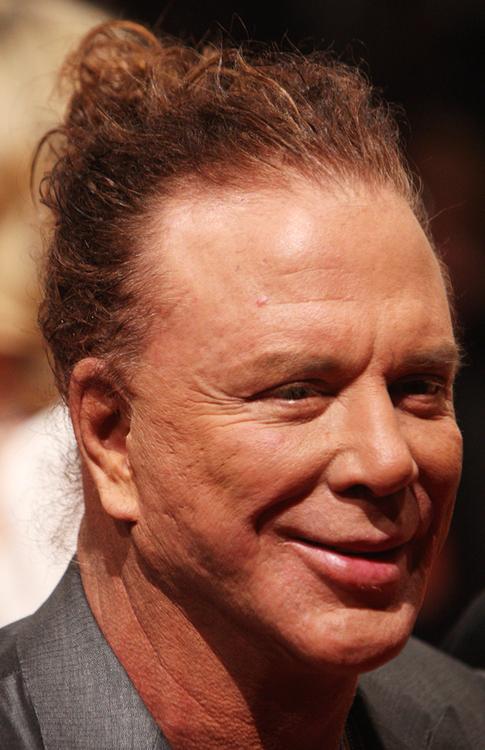 The movie, if you even care, is about a Wall Street investment banker — so '80s! — who sees a Soho gallery girl — so '70s! — buying ducks for a dinner party at a tiny butcher shop in Chinatown.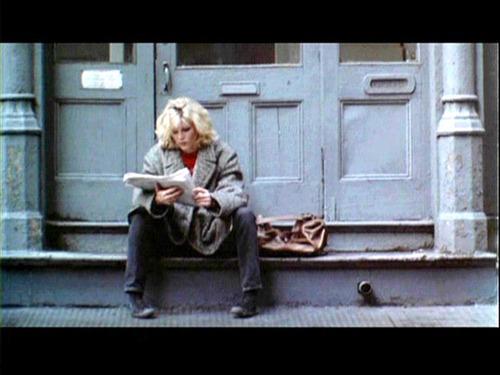 He immediately becomes intrigued, so he starts following her around like a freakshow stalker. Needless to say, she can't resist him, especially when he starts buying her $300 scarves and Cartier watches. "Elizabeth," says John Gray all creepy-like when he gives her the latter. "Every day at 12 o'clock, you will look at that, and think of me touching you."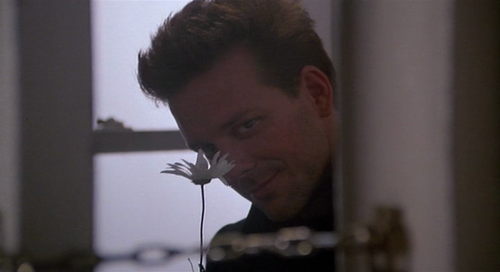 The name of the investment banker is John Gray — coincidence? — and he's not one to share a lot of personal details about his life. The name of the gallery girl is Elizabeth, and she wears a lot of slouchy clothing and eyeliner on her lower lids. I don't know what God was doing when he created Kim Basinger, but he must have been in a really good mood, because she is an absolute goddess.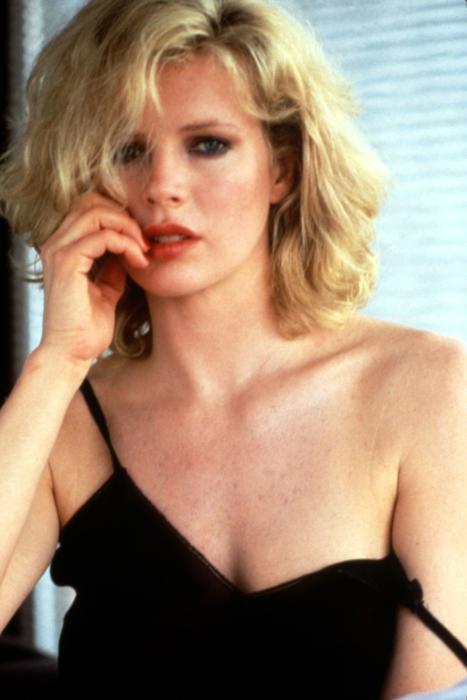 What follows next is basically a litany of sexual acts that virgin girls dream up while they're sitting around at slumber parties talking about what adult sex will be like. There's a scene in which John Gray takes a bunch of food out of Elizabeth's refrigerator, and smears it all over her body.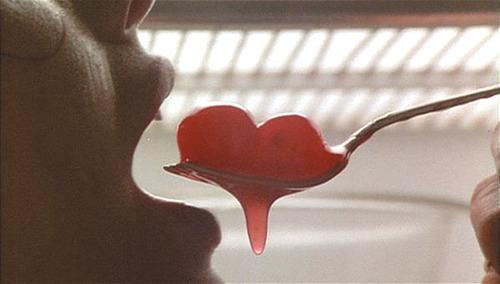 There's a scene in which he teases her with an ice cube. There is a scene in which she masturbates while profusely sweating. There's a scene in which he makes her dress up like a man, and then fucks her in a back alley in the rain. During this scene, of course, she is wearing a white wife beater so that her breasts look especially fine.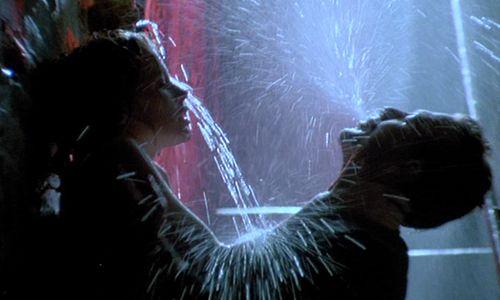 She is also wearing a squirrelly little blonde moustache, and it complete freaked me out.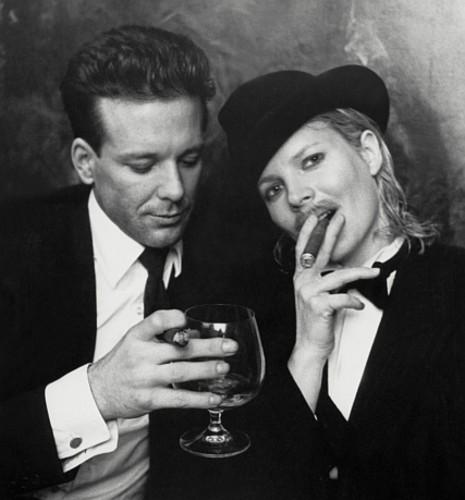 After a while, things start to get a little freaky. John Gray starts to whip Elizabeth — not actually, because that shit would have gotten censored, but the act is implied. He makes her crawl around on the ground for money. He makes her bend over and threatens to spank her. And Elizabeth does not like this! But she does like the money and the presents and the flowers. She's also very in love with John Gray because he treats her like she's locked in his basement and her legs are atrophied and he must feed her and brush her hair because she can no longer do anything by herself. He's a sick twisted Prince Charming, and she's like Rapunzel, or some other goddamn fairy tale Princess, unable to resist his charms.
Eventually, John Gray goes too far when he starts making out with a Hispanic prostitute in the Chelsea Hotel. In reaction, Elizabeth wanders up to Times Square to see a live sex show, and starts furiously making out with all of these guys. Then John Gray shows up, and they start making out, and so she goes home with him. Then the next morning, she's like, "I can't do this anymore," and he's like, "oh wait, actually let me tell you a little bit about my private life so that you know that I love you," and she's like, "it's too late, John Gray, goodbye." And then the movie ends.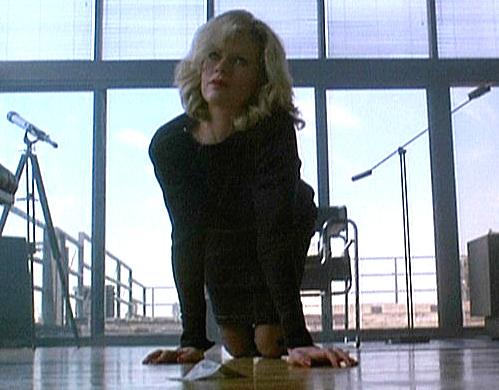 In the postscript real life version of the movie, she goes back to him, and then they move to a mansion in Greenwich and have a lot of wine-fueled fights. Either that, or he brings her to a dungeon and chops her up and eats her. I don't fucking know. The movie is so ridiculous, that really anything can happen.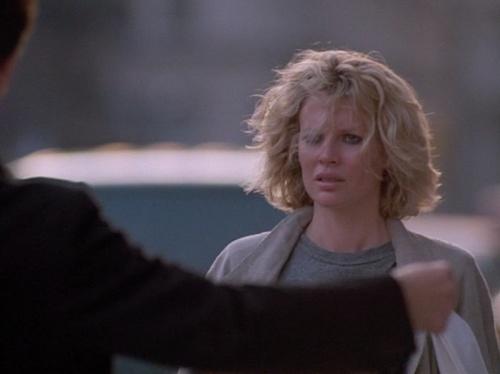 The one good thing about the movie is that it clarified why Mickey Rourke never really made it in the Hollywood system. I always thought he was a really amazing actor who just sort of lost his mind. But in actuality, he was somewhere on the talent spectrum between Olivier Martinez in "Unfaithful" (2002) and Christian Bale in "American Psycho" (2000). Now, when I look at him, I don't have to feel so bad, especially since my friend Superbad was his assistant, and he treated him sort of like his character John Gray treated Elizabeth, only without the sex parts. I hope.