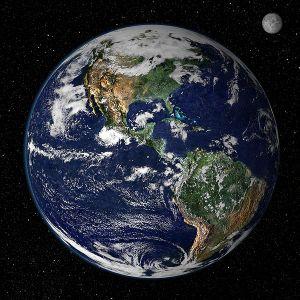 "From these the coastlands of the nations were separated into their lands, every one according to his language, according to their families, into their nations." (Genesis 10:5)
In Chapter 10 of Genesis, we have the result of what happened in Genesis 11:1-9, that is, God's confounding of man's language at the Tower of Babel. Here we have the origin of every single nation that would inhabit the face of the Earth. Every civilization that would arise in the post-Flood world can trace its beginnings to one of these 70 descendants of the sons of Noah in one way or another.
In the middle of Chapter 11, the Bible will again narrow its focus as it did between Chapters 1 and 2 . This time, the focus will move away from mankind in general to the nation of Israel specifically. Yet before it does, we are given a farewell look at the Gentile nations, the Goyim, and are shown that God is truly the God of all mankind, Jew and Gentile alike (Romans 3:29). When we arrive at the New Testament, in the Book of Acts, all the nations of the world will come into sharp focus again as all men, out of every tongue and nation, are drawn to the Lord Jesus Christ. God leaves off His direct dealings with the nations of the world here in Genesis 10 until the Day of Pentecost (Acts 2) and turns His attention toward His chosen people through whom the Son of God will come to the Earth. Yet God never really lifts His hand entirely from these nations, nor does He turn His eye away from them. The Spirit of God carefully records the names of these nations in the text of Genesis 10 because they matter to Him. We may not care about or even fully understand the distinction between an Arvadite, Zemarite, Hamathite, or any of the other "ites" listed, but God does.
Nimrod The "Mighty Hunter"
Not much detail is given about any of the specific individuals listed in Chapter 10 aside from which "branch" of the sons of Noah they descended from and then who descended from them. But in verses 8-10 we encounter a man by the name of Nimrod whom the Bible tells us was a "mighty hunter before the Lord." The idea of the language here seems to be that Nimrod "set his face" against the Lord. He stood in opposition against God. And the "prey" upon which he hunted was not deer and wild game, but the souls of men. Nimrod is a shadow, a spiritual predecessor of the Antichrist of Revelation. Like the Antichrist, Nimrod sought to build for himself a kingdom, a government over which he himself would preside and rule over all the people of the Earth. His kingdom was founded upon the efforts of man and inspired by the common bond of defiance against God. It was Nimrod who laid the groundwork for the Babylonian Empire, an empire that would symbolize, throughout Scripture, man's arrogant attempts to institute his own religious and political system in defiance of God Almighty.
What Happened At Babel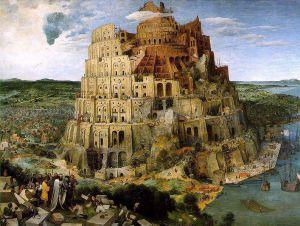 "And they said, Go to, let us build us a city and a tower, whose top may reach unto heaven; and let us make us a name, lest we be scattered abroad upon the face of the whole earth." (Genesis 11:4 KJV)
"And they said, Go to, let us build us a city and a tower, whose top may reach unto heaven; and let us make us a name, lest we be scattered abroad upon the face of the whole earth."
It is abundantly clear from this statement where the focus of these people who set about building the Tower was: themselves. Noah's focus was on God and he built an altar to honor Him. The people at the Plain of Shinar here in Genesis 11 were focused on themselves and set about to build a monument to honor themselves.  God had told man to scatter and fill the Earth (Genesis 9:1), these people said, "No, we will not be scattered." Here we have the two seeds of rebellion against God: focus on self and defiance of His commands.
In verses 3 and 4 we have the the phrase repeated, "Go to, let us…" It is a phenomenon of human nature that man will do things in a group that he would never do alone, and that is exactly what we see happening here. People will entice and provoke others to do the most wicked things under the illusion of safety that a mob mentality provides. These people, under Nimrod, had built a capitol city that would be the seat of their empire against God. Within that city, they were attempting to set a rallying point at which place they could gather together. They thought that this Tower would "reach the heavens", that it would match the Throne of God in its splendor and magnificence, and that it would serve to establish their names upon the Earth for posterity.
But what did this "great" Tower really amount to? When God laid out the blueprint for the construction of His Tabernacle and the furnishings contained therein, He called for the use of gold, silver, and precious stones. When John beheld what the New Jerusalem will look like, the Jerusalem built by God, he saw walls of precious stone, gates of pearl, and a city adorned with gold so pure it looked like clear glass. When man attempted to build a tower that would reach the heavens and preserve his name forever, he used bricks of mud and slime for mortar.
Divided Language
Man said, "Go to, let us…" and God responded in verse 7 with His own "Go to, let Us…"
What the people did at Babel deserved the righteous judgment of God and He could have simply wiped them from the face of the Earth. But God chose instead to divide man by confounding his language. This division would compel them to obey His command to disperse and fill the Earth, even though they had resisted it before. There is no doubt that mankind is very capable of accomplishing great things and the greatest of these things are accomplished when man is united in his purpose. Common culture and language serve as very powerful forces that bind men in their efforts. All the nations of the world would still share the common purpose of defying God, but their ability to unite together in their efforts would now be restricted by the language barrier.
On the Day of Pentecost, in Acts Chapter 2, God would lift the barrier of language for the purpose of uniting mankind in his ability to come to the Lord Jesus Christ. Everyone would be able to hear the Gospel preached in his own tongue and would be able to respond accordingly. When we enter the next life and dwell directly in God's presence, man will again share a common language. We will also share a common purpose. But that purpose will be to honor God and to seek glory for the name of Jesus Christ, not glory for our own.
To Jesus Christ goes all glory. In service to Him,
Loren
loren@answersfromthebook.org
[This post was originally published November 12, 2009]
**Unless otherwise indicated, all Scripture quotations are taken from the New American Standard Bible (NASB) © The Lockman Foundation and are used by permission.
[If you do not know the Lord Jesus Christ or you are not certain where you are headed when this life ends, I invite you to read the article "Am I Going To Heaven?"]
Advertisements