A premier and multidisciplinary institute dedicated to research, patient care, training and academic pursuit in the field of mental health and neurosciences, NIMHANS is a landmark that is hard to miss in Bangalore.  NIMHANS was declared as an institute of National Importance by the Government of India in 2012. In order to commemorate this momentous occasion, the NIMHANS heritage museum was constituted and opened in December 2015.  The insightful museum is developed by NIMHANS in partnership with EDC Creative Technology Solutions and INTACH.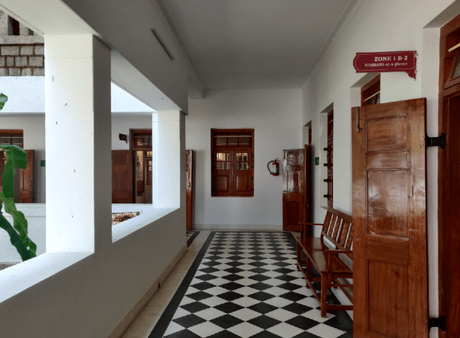 Inside NIMHANS Heritage Museum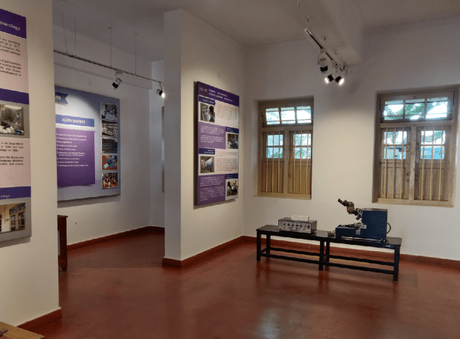 Inside NIMHANS Heritage Museum
Treasure house of information
Divided into 7 zones, the museum is a treasure house of information on NIMHANS and includes insightful information boards, audio visuals, models, photographs and artefacts.  While Zone 1 and 2 gives visitors an idea of NIMHANS as an institute of national importance, zone 3 traces the history of this institution right from the days of the Bangalore Lunatic Asylum that was established way back in 1848.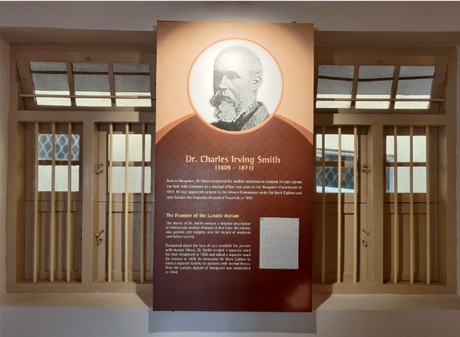 History of NIMHANS displayed at the museum
Zone 4 and 5 is a journey into the initial years of NIMHANS that was formed as a result of the amalgamation of the Mysore Government Mental Hospital and the All-India Institute of Mental Health (AIIMH).   Zone 6 and 7 depicts the evolution of the contemporary NIMHANS which is a pioneer in clinical service, training, research and is equipped with all state-of-the-art facilities.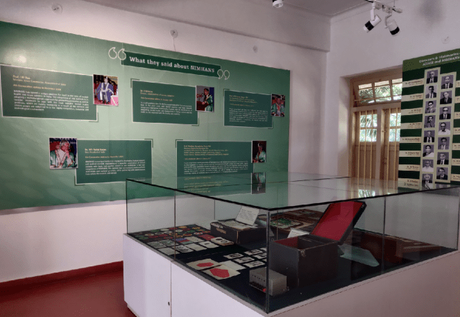 Inside NIMHANS Heritage Museum
Engaging Display
There are several engaging displays of the tools and equipment like the Finger Tapping (Oscillation) test, Koh's Block Design Test and Stroop word and color test that was used during the yesteryears to diagnose specific conditions.  Medical apparatus dating back to the 19th century like the Patent Magneto Electric Machine that was used to treat physical and nervous disorders by providing "electrotherapy" is definitely interesting.   The Memory Drum used for the assessment of a patient's memory is another such device on display.  The Tachistoscope, Stereoscopic slides and tools like the Ruckmick pictures are yet other key artefacts on display.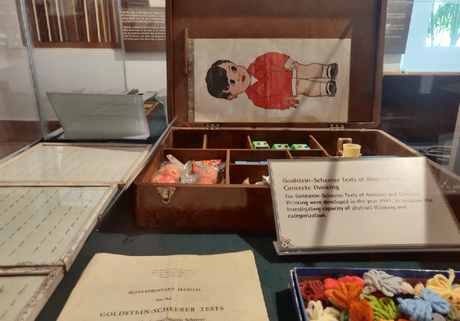 Yesteryear tools on display at the NIMHANS Heritage Museum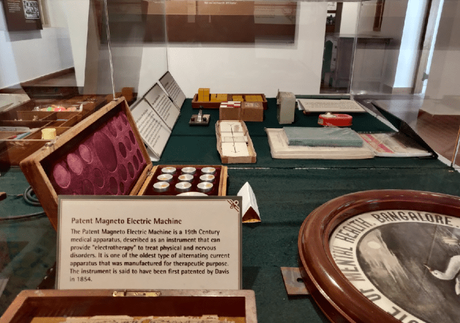 The information on the early research journals of AIIMH and NIMHANS which was called Pratibha is depicted apart from that trivia on the human brain bank which is a unique national research facility established in 1955 and a highlight of NIMHANS.  The museum outlines the various departments within the institute and the entire range of clinical facilities including psychiatric, neurological and allied services that are available.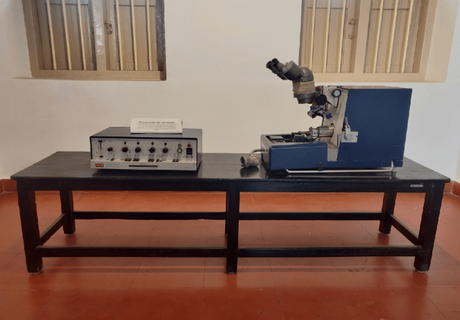 Display at the NIMHANS Heritage Museum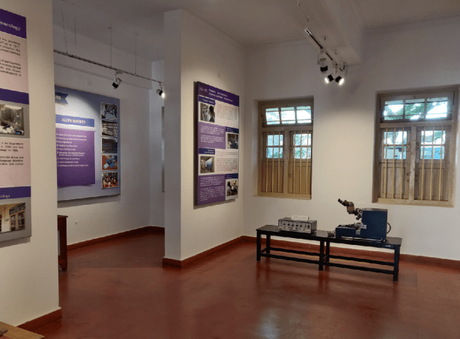 Inside NIMHANS Heritage Museum
Given that the institute is situation in a sprawling campus there is a section dedicated to the flora and fauna inhouse.  The campus has over 9000 fully grown trees and has over 75 species of herbs and shrubs including medicinal herbs.
This article was originally published in the Seema Magazine.
Click here to read about other interesting museums in Bangalore.