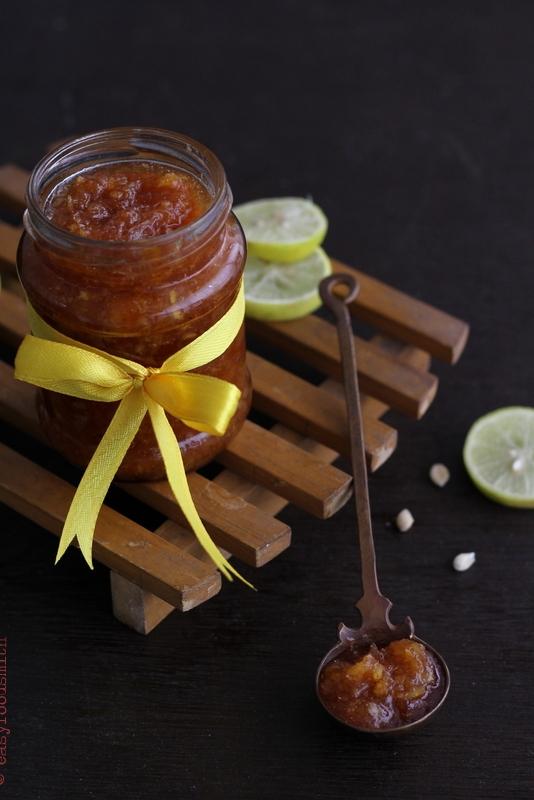 I had decided that I won't begin this post with the clichéd phrase - 'When life gives you lemons, make a lemon chutney' or something of that sort. Arrey! There are so many options to choose from when life hands out lemons so why just lemon chutney! Why not lemonade, lemon pickle, lemon bread, lemon rice, lemon curd, lemon pudding, lemon popsicles, lemon chicken!! I mean the list is endless.
However, having said that, I will now talk about this chutney. In fact, while I was keying in the title for this post, I was a bit confused whether to call it lemon chutney or perhaps lemon pickle. I settled for the lemon chutney coz I thought it was closer to chutney, since one, there is no oil which essentially goes in most Indian pickles and two, I beat the day lights out of the lemons...seriously! I whizzed them in the mixer to make a rough puree. And...Chutney in Hindi means something that has been minced to smithereens.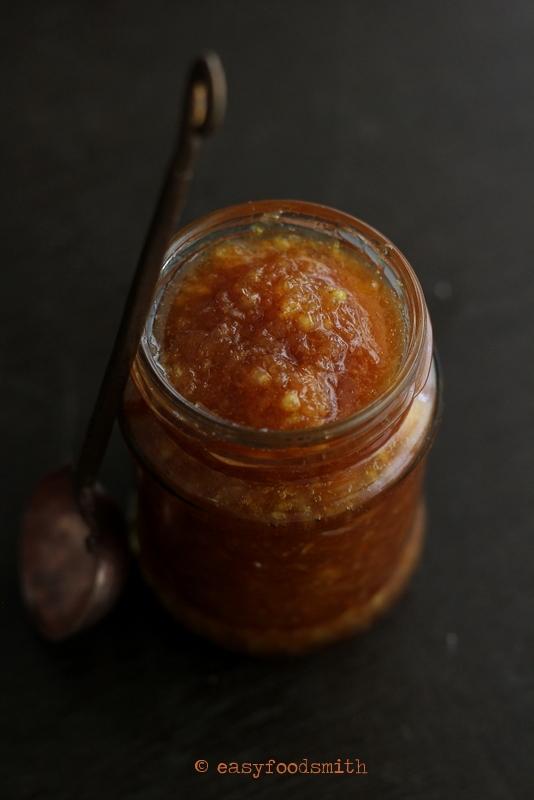 Gorgeously coloured with slightly tart, sweet, spicy and sour flavours, this chutney is addictive. For a person who does not relish lemon pickles, I find myself reaching out for the jar again and again licking spoonfuls. Not only is it delicious, it is also aids in digestion. And it is such a breeze to make that it is embarrassingly effortless!
There is just one catch though...the chutney is surely a breeze to make but it takes atleast 10-15 days for the flavours to infuse and mature for it to be truly savoured; at least it was a tad strong for me to enjoy before that. I believe Meyer lemons would be the ideal choice for this chutney.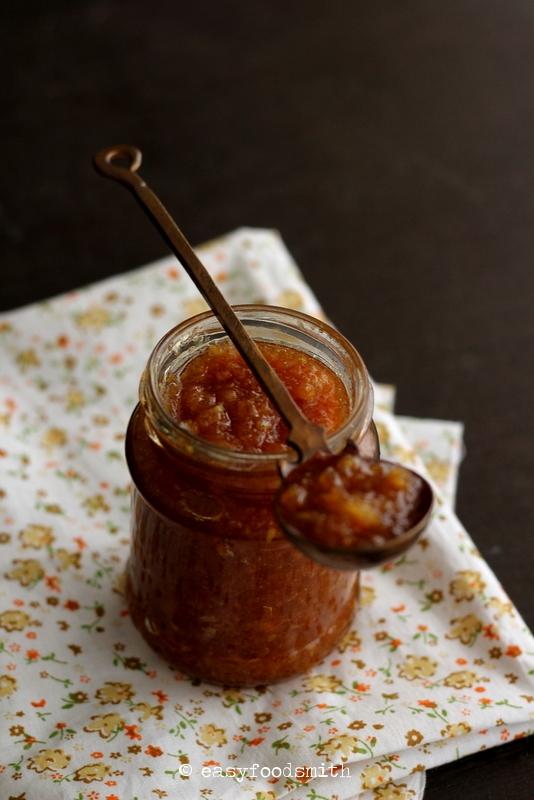 The chutney pairs beautifully with almost everything - stuffed Indian breads, 
savoury crepes (besan or dal chila), 
baked potatoes, grilled fish, lamb chops, lamb seekh kebabs, roasted chicken, 
slow roasts,
cheese and bread. You could even add it to dip of your choice! Once you make it, believe me, you are gonna make it again and again. Best thing about this chutney is that it can be made at any time of the year since lemons are always available year around.
Here is what you would need...actually just four ingredients!
350 grams (+/-) Lemons
400 grams sugar (adjust to taste)
Salt to taste (I used approx. 2
½ 
 tsp)
2 tsp red chilli powder (mine was not too hot)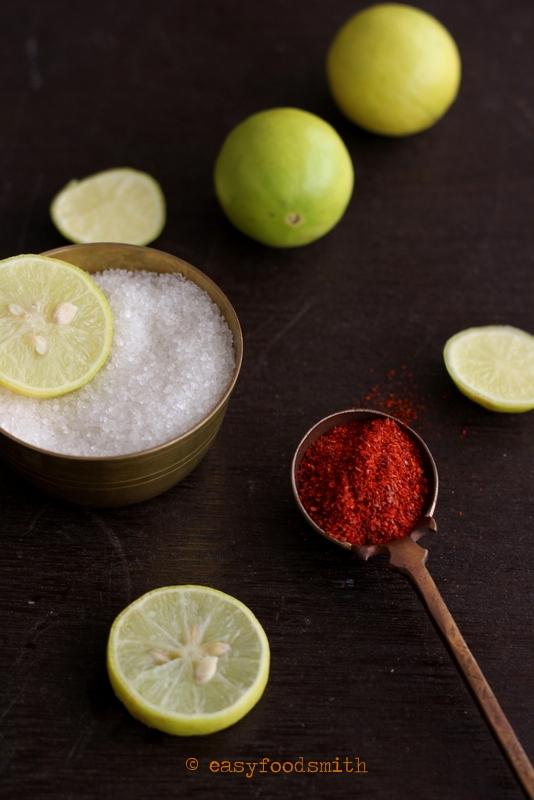 Select lemons that have thin skin and are soft to touch when slightly pressed. 
Wash and scrub the lemons well. Keep them soaked in water for approximately 8-10 hours to get rid of the natural oils of lemon.
Wipe the lemons well and cut them in 3 roundels. Remove the pips.
Transfer them to a grinder and pulse them till they are roughly pureed. (There should be no chunks though)
Transfer to a glass jar or a non-reactive container and add sugar, salt and red chilli powder.
Cover the mouth of the jar and keep it for a 10-15 days. Stir it once or twice each day during this period using a dry spoon or spatula. 
The chutney is ready! 
Do not forget to read all the notes.
Note
: Since the peels go in along with the rest of the lemon, I believe organic lemons would be an ideal choice. Or give the lemons a good wash and scrub since there can be a possibility of them being coated with wax.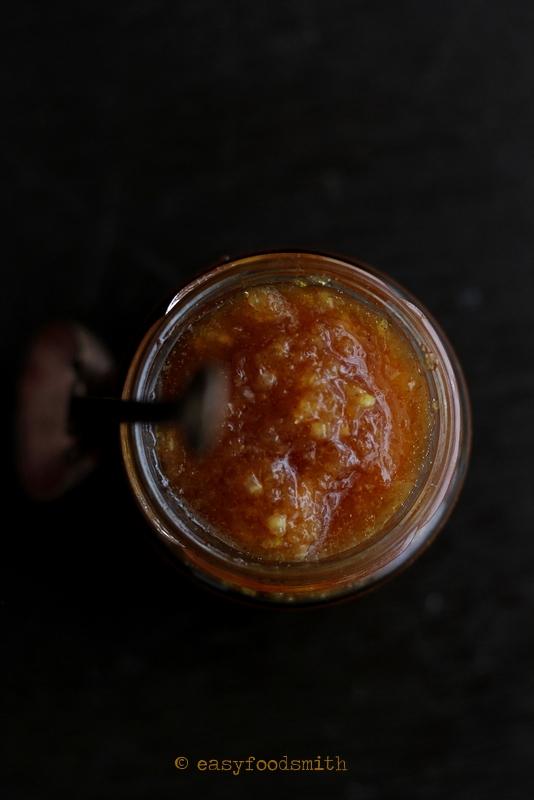 Note

: Don't panic if your chutney does not look like the one in the pic. The freshly made one will have a pale lemonish color. As it matures, it will attain a deeper color.

Note: Just like wine, which gets better as it ages, this chutney will become tastier and rich in its flavours as it matures.Note: The chutney gets polished off so soon in my house that I have never known how long it possibly lasts!Note: Always use a dry spoon to scoop out the chutney from the jar. IT IS ALWAYS ENCOURAGING TO HEAR FROM FRIENDS AND READERS. I CAN ALSO BE REACHED AT: [email protected]