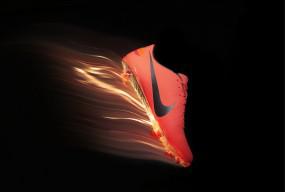 Nike have just released the newest boot in their line of successful of Mercurial Vapors.
For over a decade, the Nike Mercurial range has set the standard for ground-breaking innovation in football boots. Cutting edge technology has consistently produced a boot that delivers light weight, comfort and responsive performance. Now, the new Mercurial Vapor 8 takes performance innovation to the next level with a re-engineered boot built for explosive speed.
The Mercurial Vapor 8 combines both innovation and style with a seamless fit, touch and traction. A striking new design features a bright mango colorway with a new visual signature on the heel to help the boot stand out on pitch.
Completely redesigned to create a snug upper while locking down the foot and preventing unnecessary foot movement within the boots, Nike's new Anatomic Last takes the fit of the boot to a new level of support and stability. This is enhanced by a more minimalist and softer heel area, maximizing both comfort and fit. The result is a boot that gives the world's best players the performance they need .
Cristiano Ronaldo has worn Mercurial boots his entire career and they have once again met his exacting standards. "The Mercurial Vapor 8 gives my game an edge combining the latest design and innovations. I can get ahead of defenders, knowing that the boot will give me the speed and grip I need without compromising support, control or, of course, style."
The Teijin® Microfiber upper has a suede-like finish, increasing ball control and touch. A sleeker and closer feel to the foot is achieved by making the material around the toe softer and more comfortable for a seamless touch. A thinner and stronger construction reduces the weight of the boot to 185g — just right for a combination of speed, with the optimal levels of support and durability.
Traction is everything when the final goal is explosive speed and the Mercurial Vapor 8 delivers on both fronts. Two twin studs at the back allow for a quick release from the turf and the asymmetric design of the stud configuration delivers an explosive start. Sharper blades cut through the turf, allowing for game-altering changes in direction at speed.
The Mercurial Vapor 8 also features a unique plate, incorporating two different pieces of glass fiber that increase flexibility and responsiveness. Small dimples alleviate stud pressure at the mid-foot, providing energy return in the heat of a game.
Combining insights from leading players and Nike's design and innovation technology, the new Mercurial Vapor 8 will make its on pitch debut March 24th and be available at retail March, 29th. The boots will cost $220.
Nike Mercurial Vapor 8 -Medium