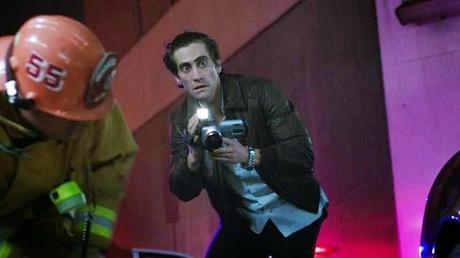 Nightcrawler (2014) was one of the Academy's notable exclusions last night (though let's face it, the right movie won). Dan Gilroy's thriller succeeds in its eerie aesthetic and Jake Gyllenhaal's  performance. Too bad Nightcrawler's ponderings aren't as deep or interesting as it imagines.
Petty criminal Lou Bloom (Jake Gyllenhaal) becomes a "nightcrawler," shooting footage of crime and accident scenes for sales to news organizations. Lou's utter dedication (or ruthlessness) impresses news producer Nina (Rene Russo), who makes Lou her go-to stringer. Lou enlists a naive intern (Riz Ahmed) and fends off an embittered rival (Bill Paxton). But Lou's obsessive dedication pushes far beyond acceptable boundaries.
It's astonishing that Nightcrawler got only an Original Screenplay nod. Gilroy's direction is impeccable, set almost entirely at night: Robert Elswit's photography relishes headlights, neon, half-lit restaurants, even Lou's laptop. This creates absorptive dread, punctuated by inevitable death and mayhem. Fire, accident or shooting, Los Angeles becomes an abattoir where life has little value, death obsessing even the well-off.
Our sociopath protagonist reflects this bleakness. Lou exudes surface charm while murdering people for scrap metal: his job gives him the same satisfaction without legal repercussions. Utterly heartless, his sole virtue is observation: asking questions, following stories,measuring what he can get away with. He disarms people with well-timed smiles, professional knowledge and ruthlessness, manipulating Nina into running his footage and then, into his bedroom. This reaches apotheosis when he spouts corporate jargon to a dying colleague.
Nightcrawler's main failing comes in the script, a sloppy patchwork of violent episodes and sledgehammer commentary. We're reminded again and again of media ruthlessness, putting ratings over decency, in scenes less shocking than grotesquely overplayed. The worst is Nina showing Lou's gory home invasion video unedited, straining credulity while earning audience groans. So soon after Gone Girl's scalding satire, Nightcrawler's dead-serious sermonizing feels positively trite.
Jake Gyllenhaal subverts an entire career of troubled nice guys. His doe eyes and lanky frame usually suggest awkward, outcast charm. Here they mark Lou a gangly, shambling vampire with a camcorder. Gyllenhaal handles Lou's derangement with finesse, every cheery greeting ringing slightly false, every demand cuttingly savage, eyes always measuring, calculating. Gyllenhaal's Lou becomes a combination of Travis Bickle and Chad from In the Company of Men, a monster who finds meaning destroying people.
Gyllenhaal's so good that Nightcrawler becomes a one-man show. Rene Russo's character is a one-dimensional shrew, without Lou's compelling psychoses. Bill Paxton goes from jerk to criminal without credible development, while Riz Ahmed makes a bland foil.
For most of its length, Nightcrawler is absorptive: bleak, well-directed, with an antihero who relishes kicking his peers (and viewers) in the guts. Yet it ultimately seems cold, because its weak story and overstated don't connect on the same visceral level. We're left with a thriller that wants to be a think piece, yet has nothing original to say.