I am always so happy about this story..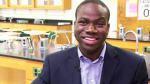 Education is huge for Nigerians, so we take pride in our success stories.
Meet our Nigerian Brain(Harold Ekeh)…

I am so proud of this teen. You have no idea. I love it when Nigerians in America make us proud.
To all Nigerians out there making Nigeria proud and a better place. I celebrate you!!!
To God be the GLORY!!
Filed under: Africa, America, Championship, Children, Coming to America, Culture, Future, Girl, Goal, Heart, Hope, Inspirational, Lifestyle, Nigeria, Preseverance, Purpose, School Tagged: 9jagirl4real, Africa, Africans, Americans, Appreciation, Bright, Change, Future, Future Brain Surgeon, Future leaders, Harvard, Hope, Life, People, Princeton, Students, Yale