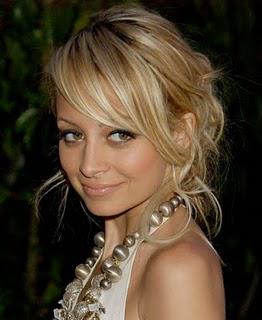 http://zebrafashion.us/nicole-richies-winter-kate-fall-collection
In October 2008 Paris Hilton's ex-best friend and The S
imple Life
 star Nicole Richie debuted her accessories collection 
House of Harlow 1960
 that would take her from talentless celeb to a successful designer. 
The collection is made up of a mixture of tough tribal pieces and delicate boho pieces; I particularly love the shoes within the collection. 
House of Harlow 1960 (named after her daughter Harlow Winter Kate) won Nicole 'Entrepreneur of the Year' at the Glamour Women of the Year Awards in 2010.
Since House of Harlow debuted, Nicole has gone on to create other collections for stores such as as A Pea in the Pod which specialises in maternity clothes and another of her own collections, 
Winter Kate
 (if you hadn't already figured it out, it's also named after her daughter) which is "inspired by timeless prints and shapes". Winter Kate has quickly become a favorite among celerities, seen on the likes of Gwen Stefani, Emma Roberts, Selma Blair and Miley Cyrus.
Since the beginning of her fame, Nicole has had a pretty  turbulent career in the media for her thin appearance which ignited rumours of an eating disorder, arrests for driving under the influence and her extensive drug use in her late
teens. It seemed almost impossible that she could turn it around; but Nicole proved everyone wrong. 
Now 29, Nicole has written two novels, The Truth About Diamonds (which got to no.32 on the New York Times bestseller list) and Priceless, designed several successful fashion collections, gone from blonde to brunette, and back a thousand times, toyed with a music career, married gorgeous Good Charlotte frontman Joel Madden, had two children and founded The Richie-Madden Children's Foundation with her husband and brother-in-law Benji Madden to help under-privledged children. 
And though all these changes, up's and down's, one thing has remained, Nicole's iconic, modern, bohemian style.
House of Harlow 1960 collection: