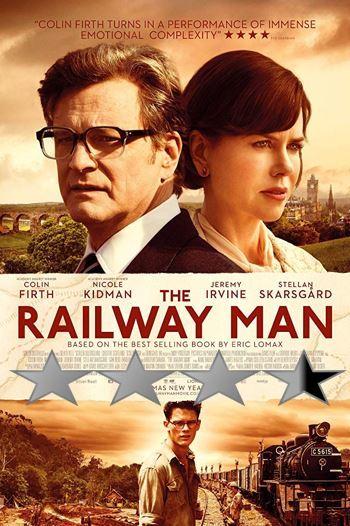 Director: Jonathan Teplitzky
Writer: Frank Cottrell Boyce, Andy Paterson (Screenplay) Eric Lomax (Book)
Starring: Colin Firth, Nicole Kidman, Stellan Skarsgard, Jeremy Irvine
Plot: A former British Army officer, who was tortured as a prisoner of war at a Japanese labor camp during World War II, discovers that the man responsible for much of his treatment is still alive and sets out to confront him.

Tagline – Revenge is never a straight line.
Runtime: 1 Hour 56 Minutes
There may be spoilers in the rest of the review
Verdict: Powerful True Story
Story: The Railway Man starts in 1980 where Eric (Firth) a train enthusiast meets a stranger on the train, Patti (Kidman), the two fall in love getting married. It isn't long before Eric starts having terrifying flashbacks to his time in World War II, where he is held prisoner by the Japanese, here he is tortured by Takeshi Nagase.
With Eric's behavior only getting worse, Patti turns to Finlay (Skarsgard) one of the fellow prisoner of wars, that is still a close friend of his, he fills in the experiences the men went through under the hands of Takeshi, which will leads the older version of Eric to want to confront Takeshi or his time in the P.O.W Camp.
Thoughts on The Railway Man
Characters – We meet Eric at two stages of his life, we have the one that was tortured during the war and tried to do something to give the fellow soldiers hop in their prisoner of war camp, we also meet an older version that has been left traumatised with his experiences of the war, it has closed him off from the world, including his wife, he gets a chance to confront the soldier that tortured him, in a hope it could bring him closure. Patti is the wife of Eric, they meet on a random train journey and it is her love for Eric that first starts to seek help for him. Finlay is the closest friend to Eric, he has remained in his life after the years they have suffered through together, he fills in the blanks for Patti, after Eric closes up to her. Takeshi Nagase was the solider that tortured Eric during the war, he has since gone onto be the tour guide for the railway that was forced to be built by the English, he is surprised to get the visit from him former captive.
Performances – Colin Firth is brilliant here because he shows us just how closed off a man can be when they are dealing with the consequences of war. Nicole Kidman fits her role with ease, she plays the sympathetic figure that will help open Eric up again, showing us just how hard to is working to make happen. Jeremy Irvine as the younger version of Eric shows us the horrors of war with the pain his character must go through. Stellan Skarsgard does fill in the story telling side of the story, he will join in helping make the most of the traumatised man returning from war. Hiroyuki Sanada completes the main cast and he gives us a character that is filled with the regret of his actions in his life.

Story – The story here follows a former prisoner of war that is still haunted by what he went through during the war and after he learns that the man who tortured him is still alive, sets out to confront him. This is an incredible true story that shows how prisoners can still be getting nightmares about what happened during the war, it shows they could close themselves off from the world. this does show us how the two men met years after the events, both are filled with memories they would rather forget and this has taken its toll on their lives for decades. It does pose the question about what you would do if you could meet the person that tortured you and what you would do, especially if it had come from during the war. Knowing this is a true story does help make it more amazing to think what Eric went through and how he would react if he could find the person that did it to him.
Romance/War – The romance side of this film shows how Eric's wife was able to try and pushing him to talk about what happened to him, showing her love would be what finally gets him to open up about the horrors of his war experience, the war side focuses on what it was like to be a prisoner of war, how they were forced into labor and tortured if they didn't comply.
Settings – The film has a couple of main settings, first we get the English home of Eric which shows him in his comfort area, we do see the prisoner or war camps which does show us just how horrific the locations were for the soldiers of war.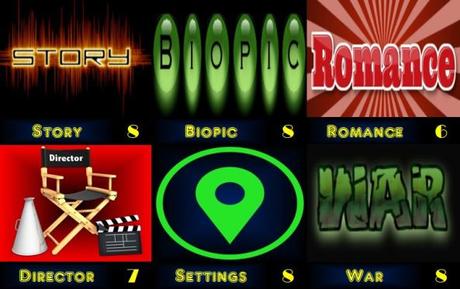 Scene of the Movie – The embrace.
That Moment That Annoyed Me – The do gloss over the older versions trauma too much.
Final Thoughts – This is an incredible true story that does show us just how difficult Eric's life became after his time at war, it shows just how he had become effected and a meeting with the man that did this to him could change everything.
Overall: Brilliant true story.
Rating