Just as much as relationships and health/beauty are major interests to me, fashion and trends have been an interest to me for most of my life. When I was little, it would drive my mother nuts because getting dressed for school would be complicated to say the least. As I grew up, my interest in fashion also grew; I would sketch designs and even took sewing classes and attempted to make clothes for myself.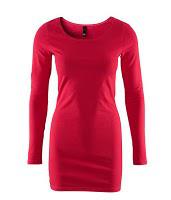 With that, I've decided to expand my blog once again to include my fashion finds. I love finding beautiful, trendy, sexy and interesting clothing, shoes and accessories...especially when they don't cost very much. I like learning about new and returning trends and interpreting them in my own way.
So here is my first fashion find that is so versatile that you could wear it for many different events now and throughout the winter.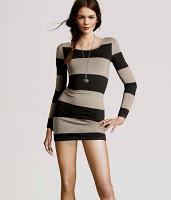 H&M
currently has this fitted long sleeve jersey mini dress in stores and online for only $14.95 in red, brown, black and stripes; but the store I was recently in also had it in navy blue and black and white stripes. This dress is so comfortable and it's not too short or low cut in the front.
What I love about this dress is how perfect you can make it for any event you might be going to. For a more casual look, pair it with ballet flats or flat boots, minimal jewelry like a chunky ring, and leather belt around your waist.
Need to dress it up? Throw on a pair of high heel booties or pumps, a statement necklace and add a pop of color with a clutch.
When it starts to get cooler out, include a pair of opaque tights, scarf and leather jacket for either the dressy or casual look.
Here are some ideas of
accessories
to pair with this dress right from H&M:
| | | |
| --- | --- | --- |
| | Necklace $12.95 | Belt $9.95 |
| Tube Scarf $12.95 | Jacket $49.95 | Suede Boots $69.95 |