San Francisco, USA has the Silicon Valley but Wuhan, China has the Optics Valley because seeing is believing. Shopping isn't a favorite pastime of mine but its difficult not to endorse the mega malls of Guanggu, this Wuhan town has two names! Teaching English is my trade, the Optics Valley will serve me well. Call it whatever you want, two names are better than one!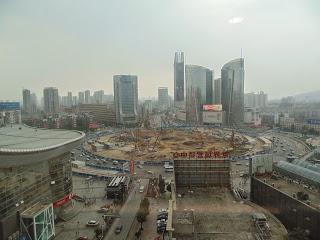 Once a parkland in the round, Optics Valley 'Guanggu' Square looks more like an epic construction site. I first saw this crazy building site in early July of 2015 on my way to Meten English's Guanngu centre, it looked a lot different compared to what I had previously saw on the internet! Home to the Optics Valley Tower, this constantly changing part of the Valley is the headquarters of the East Lake New Technology Development Zone, well that's what I've heard? My apartment block overlooks the image to the left, from the fourteenth floor the level of crazy doesn't look so chaotic. When the sunsets this center of traffic becomes a see of lights with the never-ending flow of road traffic. It's all the doing of the latest extension of the Wuhan Metro, seeing Line 2 extended from its current Optics Valley Square Station for a new section to be constructed. Yes, I'm in favour of Guanngu's next chapter! Go OPV!
Getting my life I chose to work in Wuhan out of three possible cities throughout China, sorry about that Chongqing and Foshan! It's like the Optics Valley Square never sleeps, if I can't sleep I walk down to the end of the corridor to see how those electric lights shine during the twilight hour. Shopping and business work hand in hand, mixed with busy commuters who descend upon the square to the platforms of the Wuhan Metro. I don't miss making the commute to the other center in Hankou because some people don't know how to act on public transport. KTV's and department stores make up the Guanngu Circle as well as countless business corporations, I know that the Optics Valley of China works for each Yuan! Apparently, there was a park in the center of the Optics Valley Square just two weeks before I had arrived in town. Let's bring back the green to Guanggu! That wasn't a question! The Optics Valley of China feels like home, you know that I made a wise choice G!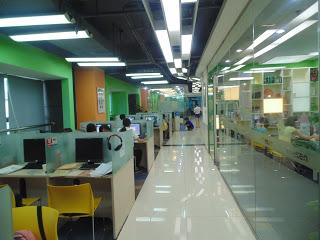 Meten English took a chance on me, I've been teaching at their Wuhan Guanngu Centre since mid July 2015. I work with a friendly and professional team of foreign and local teachers, we all have one aim to teach English to the students of this Meten English center in Wuhan, China. Conveniently located close to my apartment block I have the luxury of being close to the office, every little helps. I've been humbled by the friendliest of the students, as soon as they knew I was from England they relished in asking me endless questions about my former UK home. Before working at Meten English in Wuhan, China I was never aware of my accent but that slight Bilston tone has followed me to China for sure! I'm enjoying my day to day tasks and with each lesson I have a feeling that my time at Meten English will be unforgettable for the right reasons. English never sounded so good before! Team Guanggu!
Never before has my hometown of Bilston been referred to as 'beautiful' but we all have different minds in the end. Being part of the Meten English Guanggu team leaves me with nothing but positive things to say about my center, its true that Guanggu Meteners teach it better! As each day brings a new challenge I seek the opportunity to teach my native language in a creative and enthusiastic fashion because learning should be fun! Compared to other work that I have done, I like the style of Meten English and how the company operates in its shiny glass fronted classrooms. From the moment I met with my fellow new teachers at Shanghai Pudong International Airport on the 23rd of June 2015 I knew I was beginning a whole new journey with Meten English in China. With its optical technology I know that teaching at a Meten English Centre in the Optics Valley of China works for me just right! I'll keep on learning my grammar and endorsing my hometown of Bilston evermore M!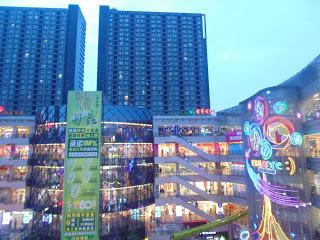 I'm not one for shopping but since living in Optics Valley, Wuhan I've been converted to the ways of the super shopping centres of Guanggu. Spending one day off to get to know my stomping ground I went to one of World City's many cinemas to see 'The Imitation Game' that features Benedict Cumberbatch, that film schooled me about the hero that was Alan Turing. Getting my cinema ticket was an experience in itself but all finished well with that respected film choice. When I'm craving a McDonald's meal I only have to walk a few steps from my apartment block to the lower level of World City for a fast food treat. Captured alongside the bright lights of World City is my apartment block, boasting a direct link with that supersize shopping center I can take the lift from the fourteenth floor then directly walk a few steps into World City. My apartment overlooks the main circle because it's all about the location!
Possessing an air of European sophistication this Optical centred Valley town has five different themed streets, can you guess what they are called? Spanish, German, French, Italian and Modern streets have different flavours and bring something unique to this central part of Guanggu. Spanish Style street has its own full scale square with a cathedral to write home about. Housing more retail businesses this corner of Wuhan gives its residents the chance to shop until they truly drop! After going to KTV the other night I was introduced to a interesting German themed bar that served me a ice cold pint of Carlsberg for a good price, I will be back for another drink soon! The Wuhanese people know how to eat, the local dish has to be 'Hot Dry Noodles' its a quick option for every meal of the day. Soup Dumplings have replaced my cornflakes and toast but I'm ok with that! Optics Valley, otherwise known as Guanggu has showed me a crazy and upcoming part of Wuhan! It's home!
Give It Up For Guanggu! 
Joseph Harrison