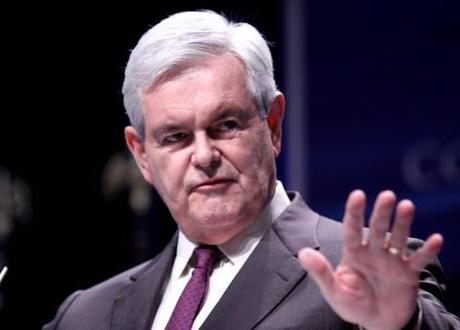 Newt Gingrich: Winning big in South Carolina. Photo credit: Gage Skidmore
Newt Gingrich has won a resounding victory over frontrunner Mitt Romney in the South Carolina Republican primary. The shock result has blown the GOP presidential nomination race wide open and shaken the Republican party – as well as sending political commentators scrambling for their keyboards.
Just a few weeks ago, the former Massachusetts governor's path to the nomination seemed clear. But poor debate performances, questions about his tax records and a feisty resurgence by Gingrich saw Romney tumbling in South Carolina. The result capped a bad week for Romney:  he was stripped of his victory in the Iowa caucus after a recount put social conservative Rick Santorum ahead, even though voting errors mean the result cannot be certified.
Historically, every candidate who has won the South Carolina primary has gone on to take the presidential nomination. With the Florida primary just around the corner, does this mean an overall win for Gingrich is now inevitable? And how did the former House Speaker pull off such a comprehensive victory?
Newt Gingrich won with 40.4 percent of the votes; Romney trailed with 27.8 percent, followed by Rick Santorum with 17 percent, and Ron Paul bringing up the rear with 13 percent. Source: The Guardian.
Panic in the party. The result has sent the Republican party into "full-blown panic", said Paul Begala at The Daily Beast: "This is terror. Chest-clutching, breath-sucking, soul-shaking panic." According to Begala, GOP self-image is based on the idea that the party is "hierarchical, orderly, disciplined" – and Gingrich's shock win puts paid to that. Begala predicted a strong fightback from the Republican establishment in order to put Romney back on top. Meanwhile, The Daily Beast's Michael Tomasky argued that the result was mainly down to the former House Speaker's fierce debate performances rather than his policies: "He won because he expressed and embodied conservative rage better than the others." Tomasky said that conservatives are so blinded by hatred towards Democrat incumbent President Obama that they've lost sight of the ultimate goal:  "They don't really want someone who can 'beat' Barack Obama… They want someone who can humiliate him in prime-time television."
Texas governor Rick Perry dropped out of the Republican presidential nomination race ahead of the South Carolina primary and endorsed Newt Gingrich.
Gloves off. Chris Cillizza predicted at The Washington Post's The Fix blog that the South Carolina result means the contest is going to get ugly: "If you hate negative campaigning, you may want to turn your television off for the next few weeks. Or maybe months." Cillizza said that Romney may have won over the Republican establishment, but he just can't seem to convince the socially conservative base: "Romney knows he can't convince conservatives/tea party types that he is one of them. What he has to do instead is convince them that Gingrich isn't one of them either."
Romney undone by Bain. The former Massachusetts governor is suffering for his past association with private equity firm Bain Capital, according to Alexander Burns and Maggie Haberman at Politico: "Even as Romney blasted his assailants – Rick Perry, Newt Gingrich and a pro-Gingrich super PAC – as anti-capitalism, he also left sympathetic GOP elites agog with a series of missteps that bolstered the charge that he's an out-of-touch mega-millionaire." Haberman and Burns pointed out that Romney hasn't given a clear explanation to voters of what exactly his position of head of Bain Capital entailed. This, coupled with his apparent reluctance to release his tax return, "has made it too easy for opponents to cast him as a cold, secretive Howard Hughes type".
Newt Gingrich won the traditionally socially conservative South Carolina primary despite new allegations about his personal life. The former House Speaker's second wife, Marianne, appeared on ABC News ahead of the primary to allege Gingrich had asked her for an open marriage.
At least the contest is exciting now. "Rather than a long, dull march to a Mitt Romney coronation, we now have a genuine contest, and one that could be genuinely amusing," wrote Anne Applebaum on a Telegraph blog. Applebaum said that Gingrich is an unpredictable candidate, and that's what makes him so appealing: "There's almost nobody in Washington I'd rather sit next to at a dinner party – unless that dinner party is being held at the White House."
"Gingrich owes his South Carolina victory almost entirely to the power of modern media," wrote Ana Marie Cox on The Guardian's Comment Is Free. "His endlessly watchable insults gave him free time on the airwaves, of course, and his disdain for journalism (as manufactured and as palpable as his hair) resonated deeply with the electorate, two-thirds of whom cited the televised debates as a factor in their decision."
Romney loss may benefit his campaign. Losing South Carolina may actually help Romney in the long run, argued Paul Sracic at CNN, as it may be in his best interests to drag out the contest: "Party primaries can be divisive and expensive, but they offer distractions that keep the campaigns, the public and the media from being able to focus solely on one candidate." According to Sracic, if Romney clinched the Republican nomination early on, the Democrats would have time to zero in on the former Massachusetts governor's flaws: "Although primary opponents are likely to point out these flaws, their criticism is usually more muted than that from another party. And the longer a candidate can avoid being attacked full on, the better."