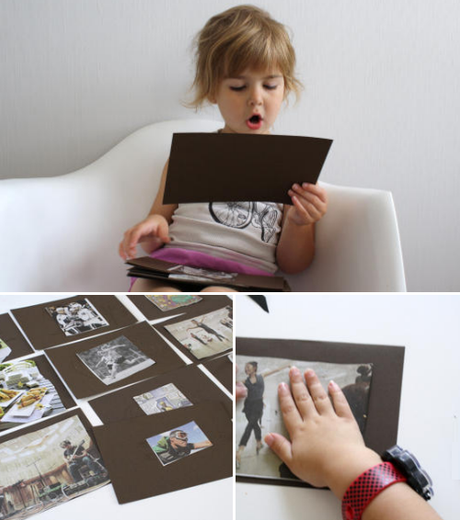 A picture is worth a thousand words, and for a kid they're worth two thousand. This project is super simple, and can be used over & over again to inspire new stories by the little ones.
All you need is newspaper (or magazines), card stock or index cards, glue + scissors. Have the kids find & cut out photos in the paper that they like. They can be photos of anything! (Some ideas to look for: the bridal announcements for "princesses", the sports section, and the comics.) Next, have your kids paste their pictures onto the cardstock. When they're finished, it's story time!
No directions were necessary for my four year old. She sat in the story chair & using her story starters, jumped right in! If your kiddo needs some direction, ask them what they see in the picture. What's happening? What do you think will happen next?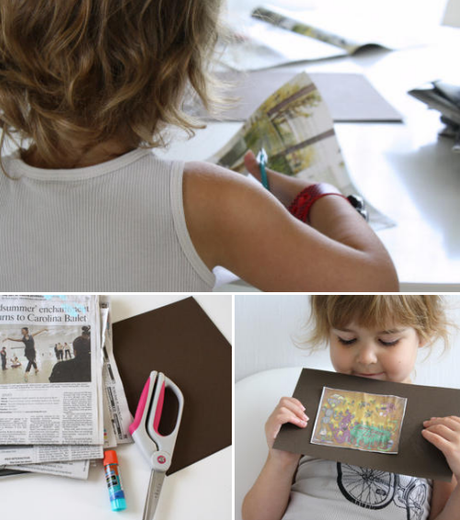 If you get a chance, record their stories. You'll be glad you did. Their little imaginations are just amazing at this age! Here are a few my daughter came up with using her story starters.
"Baseball" by Katie (age 4)
One time ago, there was a baseball family. They were playing baseball all over the place. They were mostly boys, and their mother told them all how lovely they are! The End.


(I thought it was cute that the story starter used for this story contained hockey players.)


"The Giant" by Katie (age 4)
A long time ago there was a big old giant and a boy. The boy wondered how to capture the giant. He knew what he had to do. He had to go on the side of a train to jump on him, but it didn't work. The End.
"Drums" by Katie (age 4)
One time ago, there was a mom and a little boy. The mom played drums with the boy, but he didn't like playing drums. Then he got sick and had to go to the doctor. The doctor told him to eat vegetables and no more cupcakes! Then his little brother ate too many cupcakes! The end.


(I think this one got a bit tangled up with Pinkalicious.)