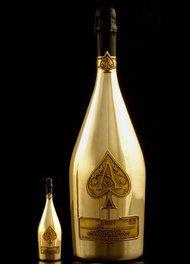 It's true, the Ace of Spades punchline extraordinaire has officially acquired the champagne brand!
"We are proud to announce that Sovereign Brands, a New York-based wine and spirits company owned by the Berish family, has sold its interest in the Armand de Brignac ('Ace of Spades') Champagne brand to a new company led by the globally renowned Shawn 'Jay Z' Carter," Sovereign Brands said in a statement.
The global director went on to say, "We have had a wonderful relationship with Jay Z throughout the years since he first discovered Armand de Brignac. He became interested in owning the brand and made us an offer we simply couldn't refuse."
If you are unfamiliar with the high end champagne, it's for the ballers! A bottle of Armand de Brignac Brut Gold retails for $300. A 30-liter bottle, which weighs in at 100 pounds.