Hi again. If you read the blog post News From the Hyaena's Mouth: PART 1 then you should have an idea about the aims of the brown hyaena research at Lajuma. But what's been going on so far?? I'm glad you asked…
1) A new assistant
At the end of last year I fundraised to support a local research assistant who would help with the brown hyaena research. On February 11th, Noeks joined our team. Noeks' family owns a property in the Soutpansberg Mountains where we have some camera traps stationed so she knows the region well. She is aiming to achieve her FGASA (The Field Guides Association of Southern Africa) level 3 qualification and is using her time at Lajuma to expand her knowledge of the bush. Noeks is also going to help me learn some Afrikaans! A big thank you goes to everyone who donated money towards Noeks' placement with me.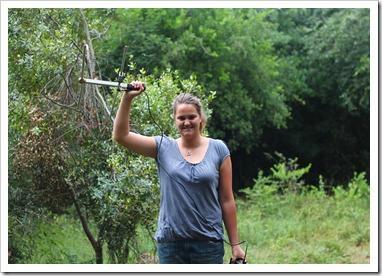 2) The first brown hyaena was caught and collared.
On the night of February 24th an adult female brown hyaena was caught in one of our foot traps. She was lured in by a fetid chicken (thanks Kyle!). We have named her Betton.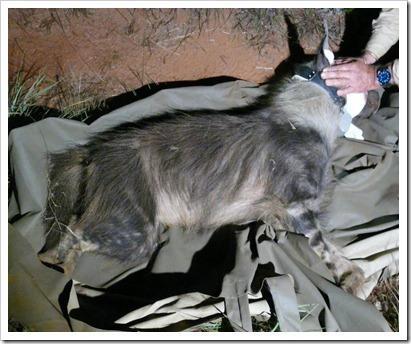 We were able to immobilise her safely and while she was under we took genetic samples which we will share with the Brown Hyaena Project at Mankwe Wildlife Reserve. We fitted her with a GPS collar which she will wear for the next year and a half. At that point the collar drops off automatically. The collar will provide information about her home range, activity patterns, her den location and how much time she spends in human dominated landscapes.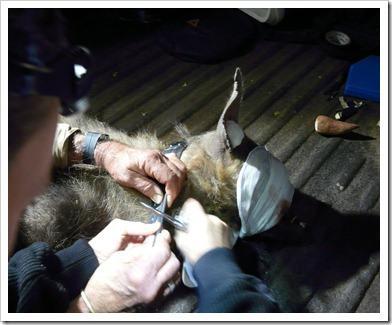 We have three more hyaena collars to affix. We hope to get another one on soon and the other two on later in the year.
3) Talking to people
A big aspect of the research is to gain information from the local people which will enable us to understand their dynamic relationships, both good and bad, with the brown hyaena.  Since December I have been making contacts and connections. This month Noeks and I are planning on piloting interviews and taking initial ethnographic data. Very exciting. 
4) Spots too
Although this research project focuses on brown hyaenas, we photographed a lone spotted hyaena on one of the camera traps on February 26th. The last spotted hyaena we recorded was December 2011 so we are pleased to see another individual passing through.