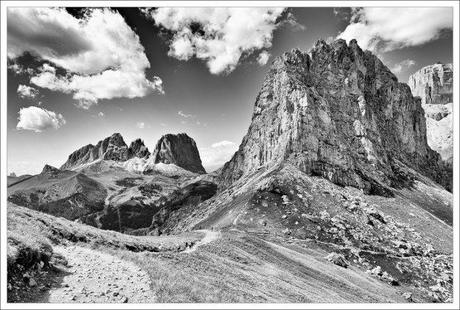 The juxtaposition of two inaccessible passes, the Giants of the Pordoi whose timeless landscape is photographed above and the Punta Veleno (literally "poisonous pick"), made of the recent Giro del Trentino an outstanding opportunity to assess how organic, serious, and potentially rich is the status of the blessed Dolomites in the sphere of cycling. This will come as no surprise to those who have personal relationships with this segment of the Alps, or to amateur cyclists who have performed in their slopes. But even if nothing was known about their meetings and dealings, and if the twenty-two percent gradient were not fearful enough, the attentive reader will sense how these two colossal mountains reveal fundamental disparities between conceptions of the cycling art and different national schools—in the 2012 edition, namely the Polish of Sylvester Szmid, the Italian of the winner Domenico Pozzovivo, and the Colombian of the amazing Darwin Hurtado Atapuma.
As Mikhail Bakhtin once wrote, "the only whole gift I can give to others is my death, because only after death can the 'aestheticizing' of my personality begin." The Pordoi Giants and the Punta Veleno combine so much cycling genius in a single race that one hesitates to pronounce it. It is only fitting, however, that this dense cluster and its realistic threat of a defeat that goes beyond failure and into the realm of unspeakable death, would address issues of aesthetic consciousness for cycling as a discipline in the sporting life.
There are riders who win because they ace the time trials, and there are riders who excel in the harsh climbing days; there are also those who manage to win since they're moderately good at both. Then came Lance Armstrong, who sought to demonstrate that all he ever accomplished was the fruit of a type of labor and pain that was previously thought to be humanly unbearable. (One could argue that his attitude—the man who sickly eats two Doritos when free, and seven-courses meals when in training—challenged and eventually forced the managers of the great tours to achieve greater freedom of expression in designing the calendar of the races.) This new Colombian school, which would be great to see at the Tour de France had they been invited to, seems to offer an absorbing, unassuming blend of the traditional preoccupations of different specialists. It is vibrant, and alive, even though I heard of people near the sloping curves of the Pordoi commenting in the idiom of the Upper Lake Garda, "è roba da scalatori puri" ("this is the very stuff of climbing").
The name of the Dolomites emerges from the Giro del Trentino as a symbol of cycling as a living force in this decade, following conceptually if not socially the symphonic line established by Beethoven and consolidated by Mahler and Shostakovich. Symphonic writing is inherent in cycling's thought, and the Giro del Trentino re-established a type of arrival where racing has found a form sufficient to its genre. For, despite the most astonishing variety and innovation, a rider can only succeed here if in the midst of side-stepping obstacles and establishing his skillful strategic course, he can look back, unremittingly, to some of his old compositions on the pedals. To achieve independence, symphonies pursue cycles; and in cycling, even the most laconic scenes, when they are elevated by their authors to the highest level of artistic maturity, retain a degree of orchestral dramaturgy, which we perceive 'frame by frame'. ♦