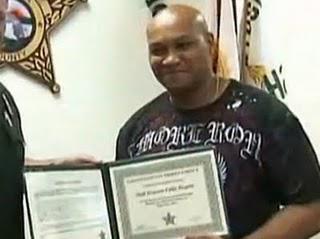 The Daily News
, and just about everybody else in the world is reporting on this story - all in agreement. Eddie Peoples is a hero. Over at
The Truth About Guns
they went wild with adulation.
"When he threatened my son, I could not let that pass," Peoples said.
Peoples said he followed the thief out of the bank, hopped in his rental van and pulled in front of the man's green Honda, blocking his escape.
After ramming the van several times, the thief got out of his car and stuck the gun in Peoples' face.
But the soldier quickly snatched the weapon and slammed the thug on the ground, holding him down until deputies arrived.
Cops identified the robber as Matthew Rogers, 34, a local bum with a history of burglary, thefts and reckless driving. The gun turned out to be a toy.
You see, the problem is, we are so enamoured of the macho hero image, I suppose from Hollywood films, that we easily lose sight of the facts. In this case the facts are that if the bank robber had had a real gun and not a toy, Eddie would be dead and his two little boys that he left behind to pursue his tough-guy activity would be fatherless.
If it had gone that way, I suppose the hero-worshiping media would be regaling him as a dead hero, but you know what the gun rights crowd would be saying? They'd be saying he was stupid to pursue the bank robber. Many concealed carry guys believe it's wrong to chase after people like this even if you have a gun. To do so unarmed is just plain foolish.
So why are the gun-rights crowd so into Eddie's "heroism?"  Well, it's simple.  They love, above all, that tough-guy righteousness.  Charles Bronson and Clint Eastwood started it.  Today there are too many examples to name. Gun rights folks live in a fantasy world in which one day they too will be able to be the hero. Real-life guys like Eddie are their inspiration.
What's your opinion? Please leave a comment.
I tried to make that point on