Hey, guys, Newchic summer sales 2020 is coming, what is your summer wardrobe theme focused on? Are you going to be colourful, wearing summer leisure or hawaiian print style? Come to to get some inspiration if you have not yet decided what to wear for this summer.
Newchic summer sale 2020 have been divided into three parts, running from July 6th to July 27th 2020. More details please click Newchic summer sales guide to check.
Pre-sale: 6th July - 13th July
Crazy Shopping: 13th July - 20th July
Thank and Reward: 20th July - 27th July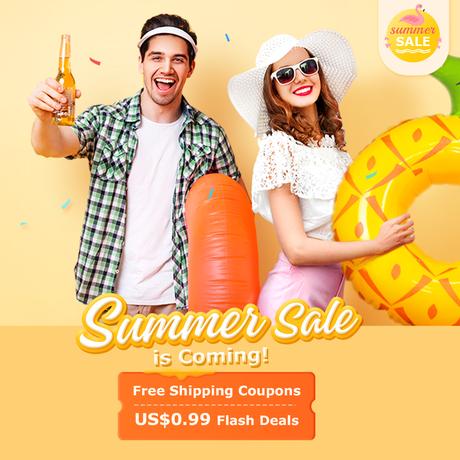 Also, we will have a live stream at 3 a.m on 15th July UTC on Facebook to introduce this summer sales, it is more favorable to place orders during the live. Keep reading to get more details about Newchic Live!
When is Newchic Live?
(1)Messenger live reservation start time: After the Newchic Saving Tips page is launched on June 29th
(2)Live time: 3 a.m on July 15th UTC
Where can we see the Newchic Live?
(1) Live platform: Facebook Newchic official account
(2) Interactive platform: Messenger Newchic official account
(3) Live theme: Tips to summer New Chic Look.
What can we do to get price before the live?
(1) Warm up Messenger registration
→ Find the live warm-up information through various channels (promotional picture in Summer sale promotion page, SNS post, EDM email, etc.)
→ Click on banner or link to jump to Messenger
→ Clicks "Notify Me" according to the prompt
→Reservation is completed once a Notify response is received.
P.S Applicants are qualified for doubling the prize in the live broadcast room. Don't hesitate to click HERE to get reminded & DOUBLE PRIZE!
(2)Join the giveaway activity on Facebook
We will have a giveaway activity in our Facebook account from 8 th July, vote for the outfits you prefer to win the gift cards or huge gift package, we will announce the giveaway winner during the live.
Click HERE to our Facebook page.
What benefits we can get in the Newchic live?
In the live stream, we prepare many surprises for you!
Such as:
🎁Lucky Draw & Win Free Gifts
⚡Double Prize(Only For Messenger Subscribers)
🔖Up To 30% Off Coupon
🛍Exclusive Price For Featured Items
For example, we will have giveaway activities in the live, what you need to do is posting the keywords on the comment section, the winners have the chance to win the outfits that hosts are wearing. So easy!
Can't waiting for see you in Newchic Live!
FAQ about Newchic Live
Q: How to get the prizes?
A: After the live broadcast, our teammates will contact the winners through private messages, FB, Ins post announcements, etc.. The winners can complete the prize redemption according to our teammate's prompts.
Q: What is the prize for each session?
A: The product introduced in the current session by the anchor.
Q: The limitations of using coupon, e.g. for 30% off coupon, are there any restrictions on the amount or product's categories?
A: There are no restrictions on the amount and product's categories, and the 30% off coupon in the live room is for all the venues to use coupon without threshold.