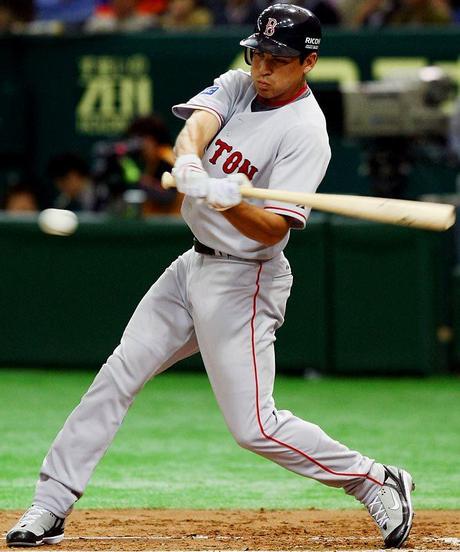 Via MLBTradeRumors:  11:45pm: Ellsbury's deal includes a no-trade clause, tweets Jon Heyman of CBSSports.com.
8:00pm: The deal includes an eighth-year option that could boost the total value to $169MM, according to Bryan Hoch of MLB.com (on Twitter).
7:41pm: Ellsbury's deal is worth $153MM over seven years, according to Mark Feinsand of the New York Daily News (on Twitter).  That tops Carl Crawford's deal by $11MM.  
Ellsbury has jumped shit and has signed with the Yankess for what could by $169 million over 8 years.  Just so you're aware, that's $20+ million per year on average for a guy who is already 30 years old.  That means he's on the tail end of his prime and heading toward his "decline" years.  I think I speak for all of Red Sox nation when I say, thanks for the years Jacoby and good luck New York betting on a 30+ year old whose main skill is speed.
Ellsbury a fantastic talent but he's got a bit of an injury history and we have Jackie Bradley Jr. for a fraction of the cost.  This is also why the Red Sox signed Shane Victorino last year.  They could see this coming.  They were never going to spend $20 million per year on a guy whose best asset is his legs.  They did that once, with Carl Crawford, and we know how that went.
Finally, we all heard talk about the Yankees getting under the luxury tax threshold….YEAH RIGHT!  They currently have 5 players with contacts over $100 million dollars and they still might re-sign Robinson Cano.  Threshold my kiester!
Yesterday wasn't all about Ellsbury and the Yankees as MLB teams went transaction crazy.  Of importance:
Red Sox sign AJ Pierzynski to a 1 year deal.  Easy signing that has no long-term implications.  AJ will platoon with David Ross and bridge the gap to the young catching prospects the Red Sox like.  This is Ben Cherrington just laughing in the face of all those who thought he was crazy last year with his signings.  Just another low risk, high reward deal for a veteran who has been to the top before.
Marlins sign Jarrod Saltalamacchia to a 3 year deal?  Really, Salty?  Miami?  That team?  I guess the thought could be that by this time next year he'll be traded away as another team and still collecting the most money he could get.  I just don't get anyone signing with the Marlins at this point.
Rays, Reds and Diamondbacks completed a three team trade where Ryan Hanigan was the most valuable player of the group (a guy that just had the worst season of his career.)  The Rays got him and promptly signed him to a contract extension.
The Astros picked up Dexter Fowler from the Astros.  It's the first decent addition to a team that figures to be at the bottom of the AL again but signifies that the Astros are moving in the right direction.  It may also be a nice trade piece for a team in the playoff hunt come the trade deadline.
Finally, the Detroit Tigers signed Joe Nathan to a 2 year $20 million dollar deal.  Yesterday I said $10 million was too much to pay for a closer.  I still feel that way, but if you're going to spend it on a closer, Nathan is probably the closest thing to a sure thing as there is. Still, if this is why you traded Doug Fister away, one has to wonder what the Tigers were thinking.  Sure Nathan is a top-notch closer but if he can't close games because you can't get to him, what's the point?  Doug Fister is far more valuable than a guy who sits in the bullpen because you don't have a lead.  The Tigers continue to be that team that confuses the hell out of you but still wins 90+ games.
Want more? Visit MLBtraderumors.com for more info.  They do a pretty good job of bringing everything together to one page.  Fangraphs is great for analysis as well.
Here's hoping today is even more crazy!