"Hi, Gulliver here, just letting you know that I have mastered the Subway system here in New York. It's a snap to get around underground. All you need is a map and an Australian accent. What you do is stand at the entrance to a Subway, poke your finger at the map and talk with your partner in an Aussie accent. In no time at all a helpful New Yorker, keen to show off their PhD in Subway Know-how, stops and helps you choose which line to take. "Oh, you'll need to walk two blocks up to Lafayette, get on the Subway there, take the F train and that will get you to your destination with the least walking. Have a nice day." Works a treat, this method. Anyway, Pam and Jamie have been giving their Subway weekly passes a hammering in the last couple of days, getting around to see several of the main districts of New York that lie beyond Manhattan, so here's how they went."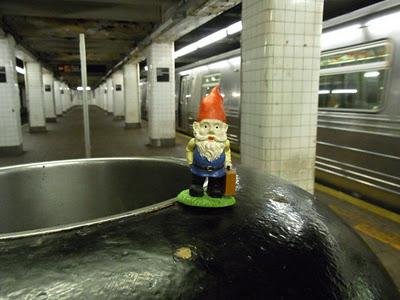 It's probably illegal to take pictures on the Subway (security and all that stuff) but we managed to take a snap of Gulliver at an undisclosed Subway station when the security staff weren't looking.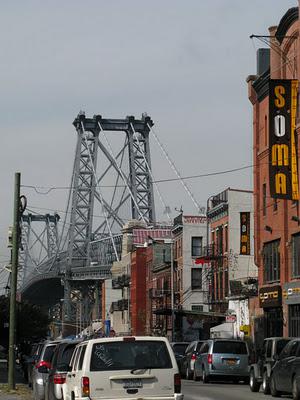 Let's just say that undisclosed location for the Subway photo was in Brooklyn, where we wandered about in search of the arty end of this city, on Bedford Avenue. We didn't know there are two Subway stations called 'Bedford Avenue' and of course we got off at the wrong one, then walked a mile or more to find what we were after. That walk was interesting in itself, as we passed through many streets where the Hasidic Jewish community live. Finally, when we saw this bridge, the Williamsburg Bridge, we were close to the Bedford Avenue we were after.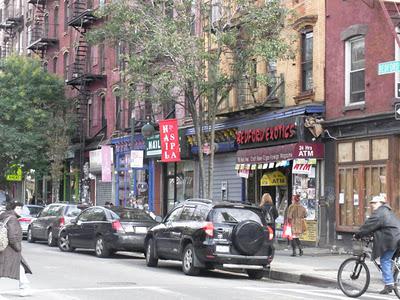 Bedford Avenue itself is rather like those old inner-city areas of many cities where the arts crowd has moved in en masse. Lots of nice cafes, people on pushbikes and quirky shops.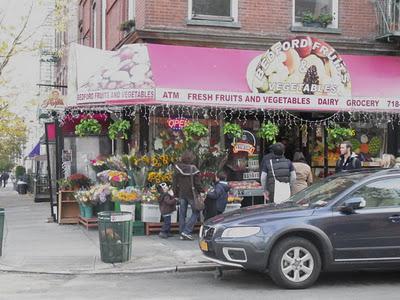 This corner store on Bedford was both colourful and popular – no sign of any shopping malls around here!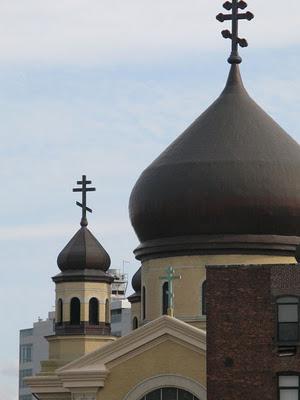 I'm not sure why I like Orthodox churches with their onion domes so much, but I do.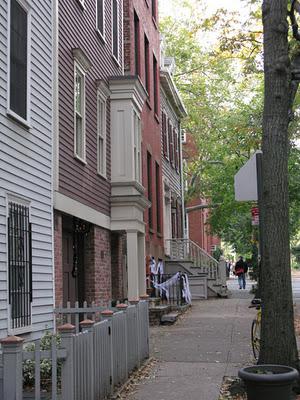 After Bedford Avenue we jumped on the Subway to High Street (and did it without any help from the locals!) and made our way down to the Hudson River shoreline to see the Brooklyn Bridge. On the way we passed by several streets of really charming houses.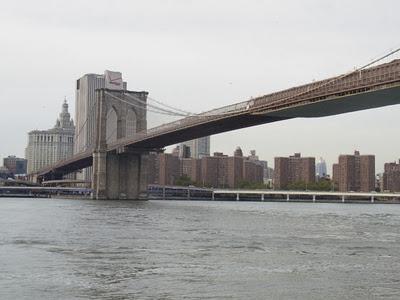 The Brooklyn Bridge itself is a wonderful span; even today it's impressive enough but what a marvel it must have seemed to all on both sides of the river when it was built in the second half of the 19th century. No-one had ever built a suspension bridge this big or wide before.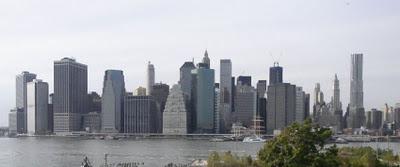 The view from the Brooklyn side of the river is impressive by day; I can only imagine what it would look like when lit up every night.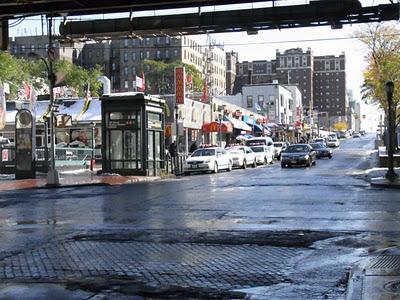 Another part of town Jamie visited one morning was the Bronx (to the north of Manhattan Island). He was there to see Yankee Stadium (the baseball ground) but while there he also wandered around a few streets on the morning after the snowstorm, and it was eerily quiet here with just a few people out and about amid the piles of snow, but the area looked a bit run-down and in need of some civic love.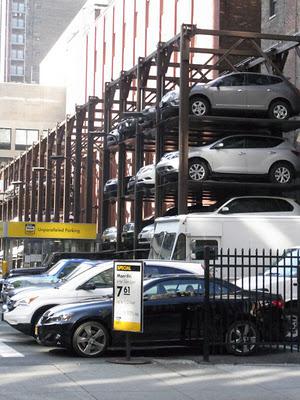 The next day we went for a walk to 'The Highline' an innovative urban 'hi-rise' garden on the West Side of Manhattan that makes use of a disused above-ground railway line. On the way we passed this 'hi-rise' parking lot, called 'Unparalleled Parking' where the cars are cleverly stacked on hoists. We passed several of these later in the day.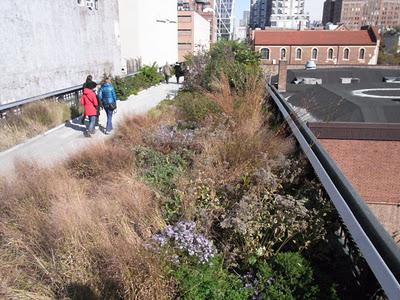 We climbed the stairs at 20th West street on 10th Avenue to join the above-ground

Highline walk

. As it's mid-autumn, and there was a snowstorm last weekend, the plantings here weren't exactly at their peak, but it still looked good.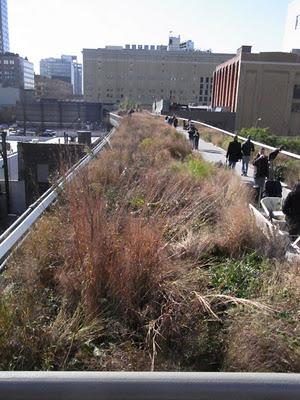 Ornamental grasses play a big role in the planting choices up here in this difficult, exposed spot, but they have also included hardy blue daisies (in sunny spots) and hydrangeas (in shady spots) in between the various grasses.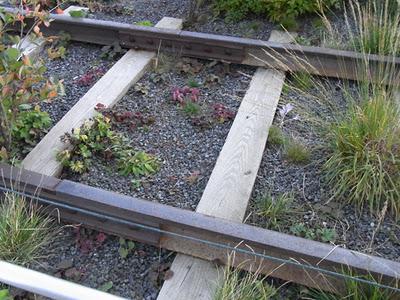 Here and there, for decorative effect, they have left sections of the old railway lines in place to tell the story of the garden's origins. It's no small garden either, and they're planning to expand it soon. As you walk the length of the Highline you traverse several streets on the West Side.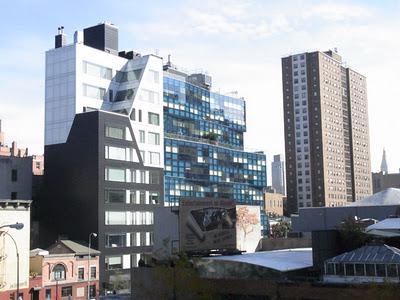 Along its length there is some interesting architecture (pictured above and below) to take in as you walk the Highline.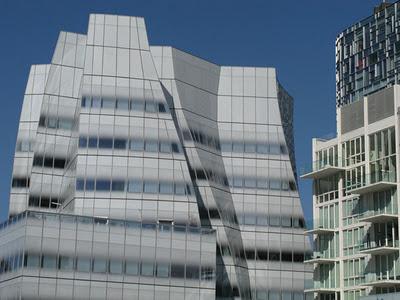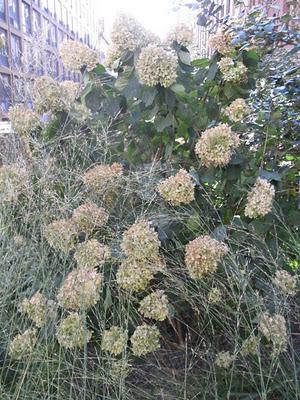 Hydrangeas are a great choice here, as they still look good even when all their summer colours have faded. By the time we made it to the southern end of the Highline, it was a short Subway ride down to South Ferry, where we caught the Staten Island Ferry to Staten Island.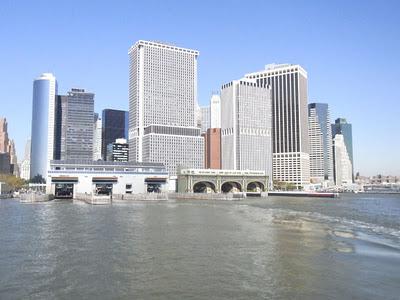 There are several great things about the Staten Island Ferry. The first is that it's free. The second is that there is one every 20 minutes. And the third, fourth, fifth to umpteenth great things are the views, such as this one as the ferry pulled away from Manhattan.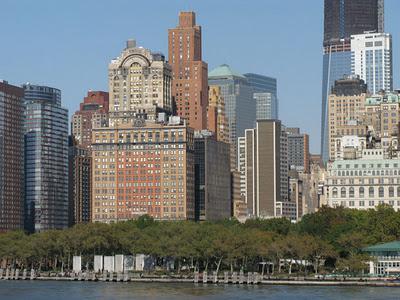 Down at the very southern tip of Manhattan apartments, not offices, line the shore.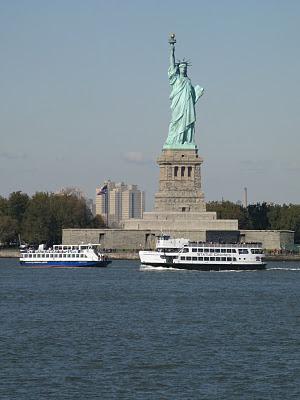 A good two-thirds of all the people on the Staten Island Ferry were tourists, most of whom were there to see this grand lady.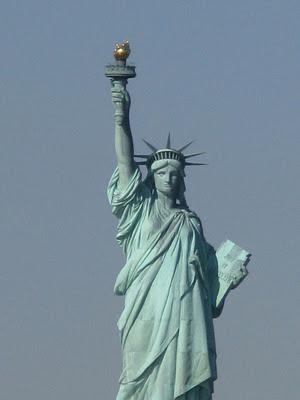 Pammy's camera has a really good zoom function that captured the magnificence of this statue on a sunny day. As well as being a superb statue, its placement in the harbor was a stroke of genius by the old New Yorkers. Once we returned to Manhattan from the untidy, uninspiring shores of Staten Island, we soon made our way up to the Soho district of Manhattan.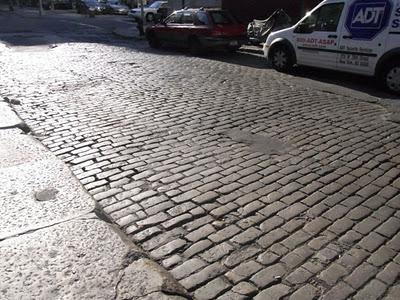 Our first surprise down this end of town was the extent of the cobblestoned streets. These aren't cutesy new cobblestones installed to make a touristy area look and feel older: these are the irregular, worn old real-deal.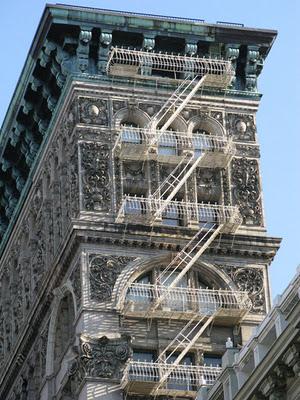 Down at street level, Soho is all about ultra-expensive designer retail shops that we couldn't afford, but looking up around us the architecture is free to behold, such as this very narrow, tall (12-15 storey high) ornately decorated building complete with fire escapes.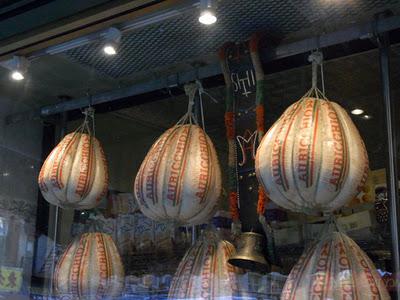 If you keep on walking through Soho, before you know it, you're in Little Italy, where several streets are lined with Italian cafes, restaurants and Italian flags. Around one corner, we came across a deli with this impressive array of whole cheeses in the window (each is much larger that a basketball). Other windows were decorated with equally gargantuan parma hams and salamis. Inside, the aroma was divine.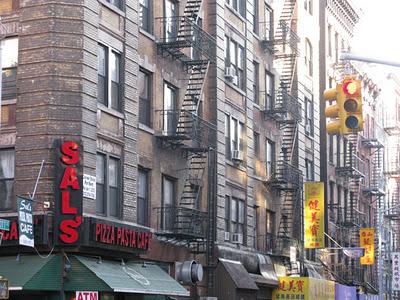 Little Italy is little. Within just a couple of streets it abruptly ends, and Chinatown begins. That's one of the features of neighbourhoods in this city: they literally end at one side of a street, and across the road a completely different neighbourhood begins.

The other major discovery down this end of Manhattan, which is not far at all from the Financial District and Wall Street, is that all the buildings here are fairly low, with very few above 10 stories. Look up and you see sky, not skyscrapers. These are the older parts of New York which are probably over 100 years old now, maybe a lot more, and so they are being preserved and indeed are being revived, restored and appreciated.
After seven days here (just one day to go!) we have barely scratched the surface of seeing New York, but by visiting Queens, the Bronx, Brooklyn, the West Side, Soho, Greenwich Village, Little Italy and Chinatown we've realised that this extraordinarily large city is also a lot more complex, varied and delightful that we'd ever imagined.