While buying yet another T-shirt from a shop-owner in Savannah, she told me that she loved visiting Sydney: she saw the Opera House, shopped in The Rocks, caught the Manly Ferry, went to Bondi, then flew to Ayers Rock. It occurred to me that we tourists often stick to that sort of agenda in the cities we visit, just sticking to the famous attractions. And so everywhere we have been so far, as well as seeing the famous attractions, Pammy and I have been keen on going for walkies through nowhere in particular in each city or town, in the hope of seeing a bit more of the real, ordinary life of people who don't want to sell you T-shirts or take you on a tour.
And so that's part of our plan here in New York. The trouble is that as soon as we leave a famous building or street behind, before you know it, just a couple of blocks further away, there's another world-famous district or building getting in the way. Them's the breaks, so here's what we saw on our lovely cold-but-sunny Sunday afternoon's walkies today.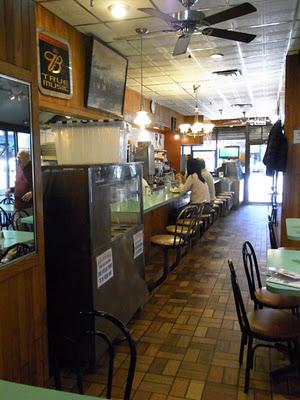 We started with lunch, in a Greek-run diner on Seventh Avenue. I had a burger and fries, Pam had a toasted sandwich. The great news about New York is that we've made it back to the land of decent coffee.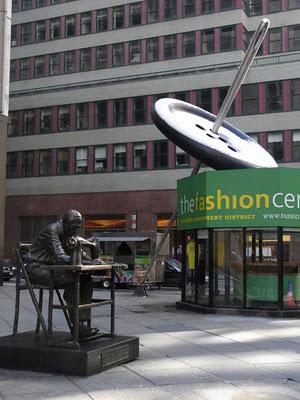 Also on Seventh Avenue, which is known as the fashion street, is this charming statue of an old Jewish tailor at his sewing machine, and in the background is a dramatic sewing needle and button sculpture, whose button was still filled with yesterday's snow.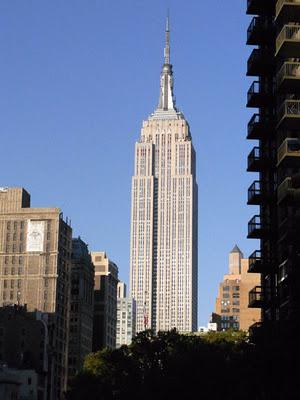 No matter where you go, the giant buildings, like the Empire State, are there looking at you.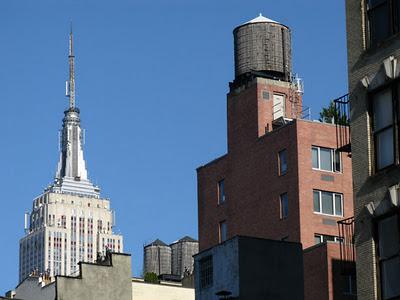 Pammy wanted to take a photo of the water tower on the building on the right, but even 10 streets away the Empire State loomed large.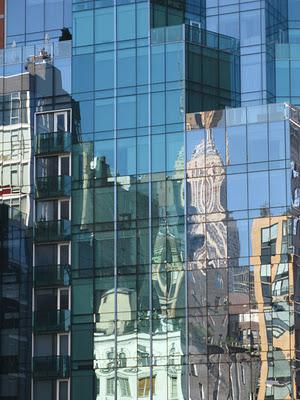 Guess which building made it into the reflection here?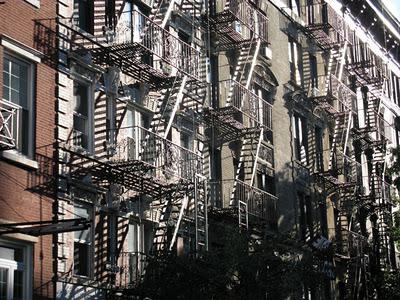 We were heading downtown for the first time in our visit, and as we walked through the Greenwich Village neighbourhood the array of fire escapes on the buildings looked like a dozen steel Zs lashed onto their sides.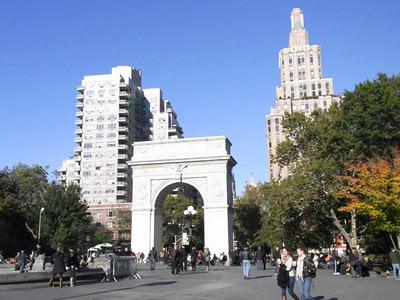 We stumbled across Washington Square at the south end of Greenwich Village, and the sunshine seemed to have lured out every resident in the district.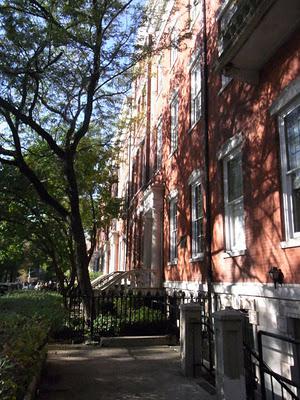 These elegant houses catching the afternoon sun were around the northern edge of Washington Square.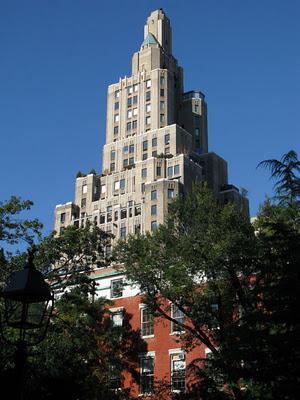 Overlooking the square is this magnificent tiered wedding cake of an apartment block.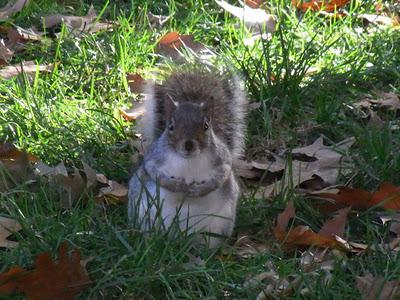 Inside the park, the residents here include hundreds of squirrels, all very busy indeed with collection acorns. Yesterday's surprise snowfall must have spurred them into action. Crikey! Is it winter already?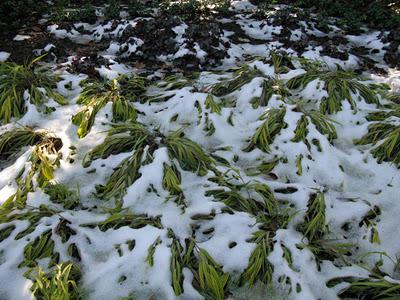 Looks that way. In all the shadier parts of the garden yesterday's snow had turned to ice that wasn't willing to go away.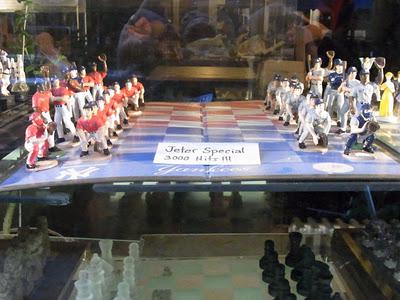 The shopping in this area is all about small specialist stores. I bought a great T-shirt from a store specialising in all kinds of stuff from the Coen Brothers' movie, 'The Big Lebowski'. And next door was a chess store, with chess sets in all known permutations, including this baseball-themed set.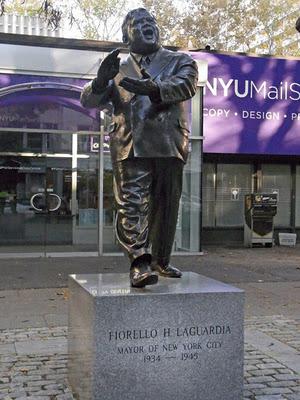 As the sun started to get low in the sky and the chills set in, we headed for home up La Guardia Place. In the middle of this street I spotted this wonderful statue of the former Mayor of New York, Fiorello La Guardia. It's such a vibrant, energetic and non-pompous statue of a major civic figure. I love it.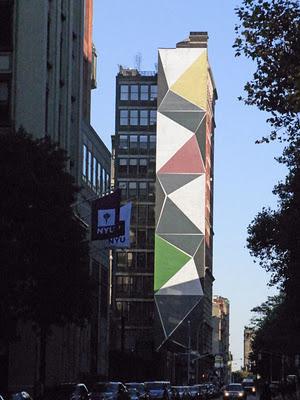 At one intersection I spotted this remarkable looking building, but it's really just a giant trompe l'oeil. It's a great paint job on the side of a flat brick building.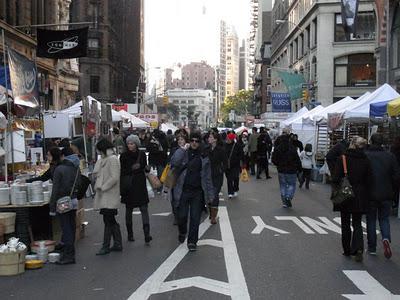 OK. Guess the name of this street? If you answered 'Broadway' go to the top of the class. The remarkable thing about Broadway is that in most sections it's not very broad at all. On Sundays it's closed off to make a long, long series of street markets stretching across several streets.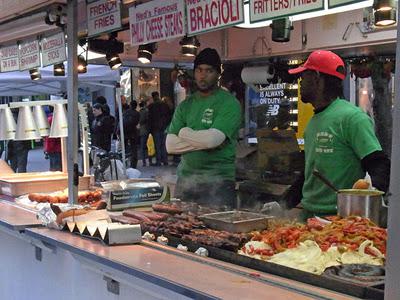 As well as all the fashions, crafts and other offerings in the stalls, there are lots of food stalls here laden with a dozen different types of meats slowly grilling, plus deep piles of peppers and onions to be piled on top of whatever combo you want.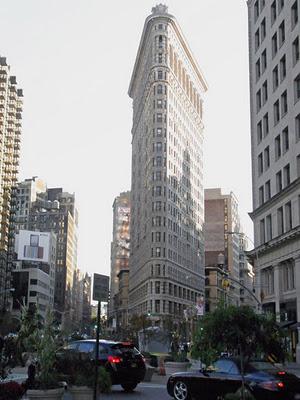 Marking the end of the Broadway markets, which are in the Flat Iron District, is the incredible building which gives its name to that district. The Flat Iron Building was one of the original skyscrapers of New York, and it was one of my 'must-see' buildings in this town. I have the same attitude to buildings as I have with sculpture: you have to see them in flesh to truly appreciate them.

The walkies haven't finished for the day either, as we're planning to walk from our hotel in 31st street up to the Iridium Jazz Club on 51st street to see some live music (Marshall Crenshaw with the Les Gibson Trio) tonight. Walkies might be a slow way to get around but it is by far the best and most interesting way to get to know a city. We plan to do a lot more of it, and the weather forecast for the next couple of days looks like walkies weather to us, at least most of the time.