When planning this holiday, we always knew that our late-October/early-November stay in New York would be the chilliest part of the holiday, and we were right! But we didn't expect snow. We're thrilled to see it happen (I'm not so sure that all the homeless people here would share our excitement at the prospect, though). We spent quite a bit of time trying to take a still photo that captured the snow as it started to fall, and Pam's photo below captures the first flurries seen out of our hotel room window really well.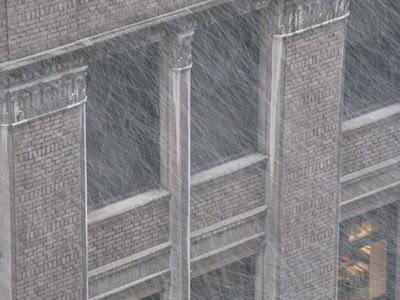 Then it occurred to me that one of my dodgy pan shots might work. It did. You'll have to forgive one error in the commentary: the local newspaper I looked at early in the day said it was the first decent fall of snow in October since 1925, but since then it seems that there were light smatterings of snow back in both 2002 and 1952. So October snow is a rarity here in New York, that's for sure.
Soon after we did this pan shot, we hit the streets with coats, brollies, boots and every other protection we could muster against the elements. Same old bustling street life. A bit of snow wasn't going to slow down the taxis, dull the horn honking or keep pedestrians off the sidewalks.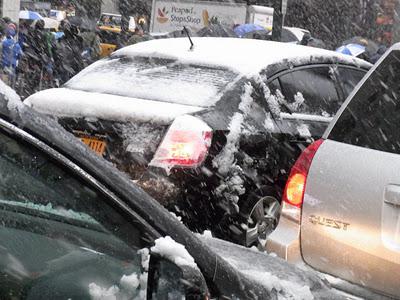 It was amazing how quickly the cars here accumulated a layer of snow as they got around.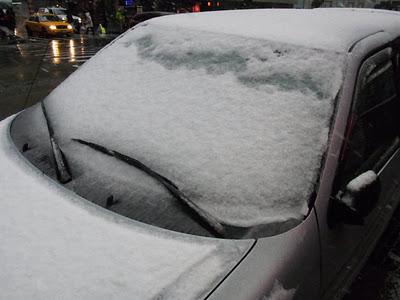 Thought it doesn't look like it, this dull, dark photo was taken at midday.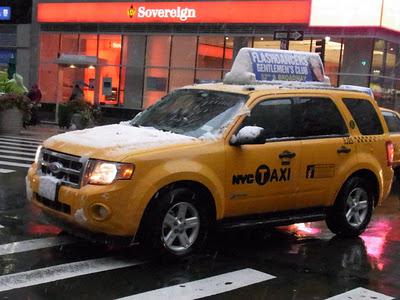 Even the ever-moving cabs, whose engines would surely provide a bit of snow-melting warmth up-front, were all covered in more than a dusting of snow. After lunch Pam and I split up: she sensibly went for the warmth and temptations offered by Macy's and other big stores in a humungous shopping area. I wandered around the streets for less than 20 minutes more, just looking, and by then my shoes were soaked, so too my coat and bag, and so I headed back to the hotel.
On the way, just a block or two from our hotel, I decided to try one last street-level pan shot and (keep an eye out for them) at the end of the shot three or four people dressed in full Moon Mission space suits, with helmets, wandered into the shot, all carrying umbrellas.
So who would've thunk it? Snow in New York in October. The weird thing about the weather here is that yesterday was bright and sunny, today it's snowing and blowing, and tomorrow it's meant to be bright and sunny again, although with temperatures barely into the 40s at best.
Now, 40°F is not quite 4.5°C, and that's a miserable max for a sunny day. The Weather Channel promises that it'll warm up a bit for the rest of our stay each day, getting all the way up to 57°F (13.8°C) on Wednesday. After the incredible run with warmth and sunshine all the way from Las Vegas to New Orleans and then on to Atlanta, we're not complaining for a nanosecond. In fact I would like to thank Huey the Weather God for making our New York stay so interesting. Onya Huey!