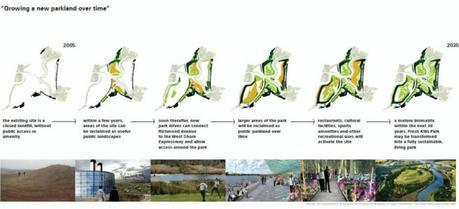 Fresh Kills сonversion stages. (Credit: New York City Department of Parks & Recreation)
With its 2,200 acres of total area, New York's Fresh Kills landfill was opened in 1947 as a temporary landfill, but eventually became New York City's principal landfill, in the second half of the 20th century. At one point it was once the largest landfill, as well as human-made structure, in the world.
The plant was closed in 2001 and held 150 million tons of solid waste. In mid-2000, in parallel, the city began a new initiative, PlaNYC, in which dozens of city agencies undertake conversion activities within the city's various green areas. Abandoned buildings, neglected areas and landfills are recovered and returned to the citizens. This initiative comes from the idea of transforming the former Fresh Kills landfill into an urban park.
Next month, The Department of Parks and Recreation will define recovery actions for the first 1,500 acres of selected areas. But the news that is even more positive in that these interventions included constructing a photovoltaic park of more than 110 acres with a 10 MW capacity. It will become the city's largest energy production plant and starting from 2015, (the year it's expected to go into production) it will increase the rate of renewable energy that supplies NYC by about 50%.
Fresh Kills Park will be three times the size of Central Park. It will consist of a variety of public spaces and facilities for a multitude of activity types. The site is large enough to support many sports and programs including nature trails, horseback riding, mountain biking, community events, outdoor dining, sports fields and canoeing.
Fresh Kills from "environmental nightmare" which it's considered today will soon turn into an example of urban renewal and environmental sustainability. The planned photovotaic installation also demonstrates how developing large-scale renewable energy projects are possible in large cities.