On the third and final day of NYCC 2011, I wasn't sure what to do. All the awesome costumes made me wish I had the time, energy, and skill to pull something off, but I wasn't going to do it in a couple of hours. So I went with an often safe choice: a Browncoats T-shirt. (The reaction was predictably positive.)
Sunday was an odd day: sold out, meaning it was as potentially crowded as Saturday. But it was also Kids' Day, with children under 12 admitted free. Strangely, it didn't get crowded until after noon, at which point, the place was packed. With no panels on my slate, I spent most of the day on the floor, with a few key exceptions.
The day started really well as I discovered that Ian McNeice was giving autographs and pictures at the Doctor Who Store booth. McNeice plays Winston Churchill in recent seasons of "Doctor Who", most recently in the sixth series finale. He was also memorable in "Rome" and "Dune", which I made a point to mention to him. He was very friendly and enthusiastic.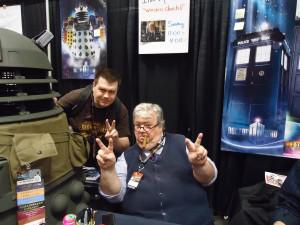 Shortly after that, I wandered over to the North Pavilion, where most of the celebrity signings were taking place. Most of the lines on the main stretch were predictably prohibitive, but Eddie McClintock from "Warehouse 13″ was among the more approachable celebrities. He was very generous with his time, and when I told him about our effusive reaction to his performance in the recent season finale, he was very thankful and discussed his views on the scene at length. He was also more than happy to record a bumper for the podcast, which will be featured on the episode posting tonight.
So the morning was very good, so as the crowd began to swell, I moved on to another anticipated event at NYCC: the Quidditch exposition. For those who aren't aware, there is an entire intercollegiate sports league for Quidditch now, and beyond that, the "Quidditch World Cup" is taking place in New York this year. The demonstration was absolutely hilarious, and well worth the time.
I spent the rest of the afternoon taking one last round tour through all the main areas, hunting for some last-minute bargains and soaking in the remaining ambiance of the event. Photos from today can be found over on the MediaBlvd Magazine Facebook page.
It was a great experience, despite some of the frustrations of the second day, and I can't wait for NYCC 2012!!!