Ahhhh...January 1st. Another trip through this "resolving" door.
How can I make myself better? What changes, goals, targets, bulls-eyes, etc. can I focus on in the New Year? What have I failed to accomplish in these past few decades of life which I will now turn my attention to, lest I continue to fall short of being the perfect human being?
For the past four years (could be six; really, we all know when it comes to New Years' Resolutions, it's like answering a phone survey about how much you exercise: lie, exaggerate, wish it to be true, and hope they don't have spy-cams) my resolutions have been the same:
Run a full marathon.
Finish writing my book.
On an overall score of 2, I'm at 0.5, which is two tenths ahead of where I was four (five? six?) years ago.
As for #1 - The marathon: I'm only about 3.5 hours and 22 miles away from being able to complete the distance. The good news is, I've started running again; the bad news? I know I'm only a Godfather marathon away from leaving it all for a bag of chips and a weekend on the couch.
Besides, my trusty Osteopath warned me against distances of more than 6 miles. I could cheat, but my Osteo is also my neighbor; his picture window faces my front door. He'd know.
As for #2 - The rough draft of the book was actually completed and proofed by an agent who said it was "promising". She then suggested I bolster my chances of getting it published by creating an "online" presence for myself. So now I use all my spare time blogging and creating funny little avatars for myself. The book is around here somewhere. I think it's on my 'k' drive.
So, I'm turning my attention elsewhere this  year.
See, there's this woman who lives here. She's fantastic. She helps me out a LOT. She works to provide me with a little extra cash; she pitches in with things like cleaning, cooking, keeping me company on long drives and visits with my relatives; and she occupies the fourth seat at the table when I'm out with my couple-friends. We also have this really cool arrangement: on most occasions, when I can't be with my kids, she'll, like, check this calendar I keep on the wall and she'll take care of them. I dare say she's almost spent more time with them than I have.
What's really cool about this helper/assistant is: she's legally bound to stay with me! We were married ten years ago, and the kids are half hers! LOL!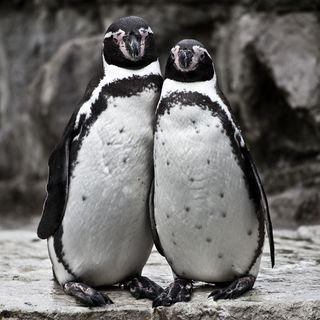 Cute Penguin Couple by Adam Foster
In fact, I like her so much, I think I'm going to resolve this New Year to take the relationship to the next level. I think I might start dating her (if she'll have me).
Instead of pecking her on the lips (lucky she lets  me get that far), and high-fiving her as we pass each other coming into or going out of the house, I'm going to put some time aside for just the two of us. How?
Date Night: I've heard friends talk about it. Put aside time once a week, or even once a month, to go see a movie; or go out for dinner; or even a quick drink or coffee and donut. We may end up talking about the kids, but at least they won't be interrupting us.
Get Away Together: A whole weekend would be great; a chalet or something. But, even a night in a local hotel would be nice. Imagine spending a whole 90 minutes sipping coffee and eating bacon. That, after a spa treatment and a swim in a hotel pool!
Work Out as a Couple: She does these boot camps. It's not exactly running a marathon, but I not running marathon, remember? It's not really fair to compare the exercise she is doing to the exercise I'm considering doing. Maybe I'll join her group, or convince her to come jogging with me. We'll experience that endorphin rush together, and can talk about my impending heart attack being caused by actual exercise and not by the grind of parenting.
Commit to a Group Activity with Friends: Once every month or two. Start a book club, or movie club. Anything which may divert from conversation with tiny people 8-years-old or younger.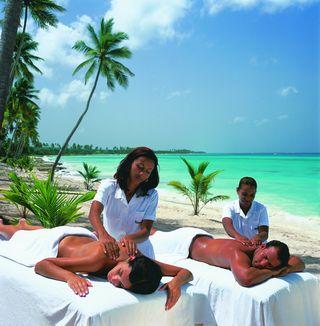 Couple SPA Massage by Be Live Hotels
Yes, this is the year of change! Not like last year, or the year before, or the....
The calendar will become my friend. I'm gonna sit her down, this lady I live with, and together we're going to commit to shared activities (outside of HBO's stellar programming).
May I suggest a similar commitment to any readers out there who have been sharing their house with this other person with whom your share a legal agreement?
If this actually works, and through implementing this new methodology I actually get her to love me, I'll write a book on how I did it. Hmmm a book on restructuring a relationship. That's a great idea....I'm going to put aside Tuesday nights to work on it. ;-)
Have a Happy Holiday, everyone. I'll be back with new posts in the New Year.
  Kenny B.