I have to show off these two great stitch & finishes today!  
Beverly C. stitched up my Thanksgiving Collage with her own stitch choices and isn't it fabulous?!  She had previously asked about getting a stitch guide for this canvas, but I think we can all agree she didn't need one, in fact she could be writing them herself!  Her stitch choices are just perfect, and how great is that turkey-work tail on the turkey???  LOVE this one!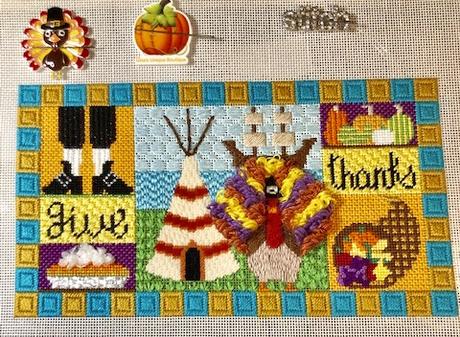 Letha C. stitched my "Lilly" wallet and finished it inside this acrylic purse form, but that's not the whole story.  I was at my local shop one day and a friend and I were showing the shop owner these awesome acrylic purse forms and talking about how we wanted to stitch some things to go inside them when Letha comes walking in the door with this exact same purse!  It's like she's a stitching psychic, LOL!  In fact, once before at that same shop, the same friend and I were talking about my Sleepy Kitty canvas and how cute Letha had stitched it, when Letha came walking in the door with that same canvas, dropping it off for finishing, how coincidental it that??  Any-hoo, did she do a great job on this or what?  And yes, she has it finished so that you can take it in and out of the purse-box and switch it out with other needlepoint, perfect-o!!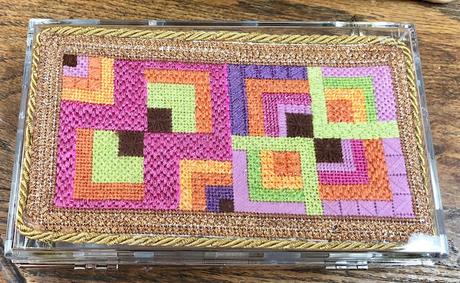 Top view of the purse: