I can't believe 2020 went pass in a flash like that. Quite honestly, I don't think I have much of any achievement to boast of, except the birth of a baby and as a result a launch of a rather sucessful series - Baby Talk. This year, most of my money has been spent on my child and the vast quantity went to his clothes. It is really something you can never have too much of. Oops. 
Many people will tell you that you shouldn't spend too much on your child's dressing in their early years because they grow up way too fast. But please don't go to the extreme and don't spend at all. I am saying this because I do derive a lot of joy dressing my child and I know one day he won't let me dress him the way I please anymore. 

And so, now when I am shopping, I decided to get bigger-sized clothes for baby. Believe it or not, our little one is wearing clothes nearing 9 months-old. He is really growing up too fast and outgrowing his clothes even before wearing them. Such a waste! A lot of my friends have commented that our child dress very dashingly. 
Everyone thinks we spend quite a lot on our child's clothes. Actually,
if you buy during sales, you can get quality apparels at a very good price.
Today, let me introduce you a new clothes store we found -
Piou Piou Club
. The clothes there is really
stylish
and I can assure you their
product quality is very decent
. My
only grouse is their selection is a little limited
, but on the bright side, if they had any more clothes, they might truly slowly burn a hole in my pocket.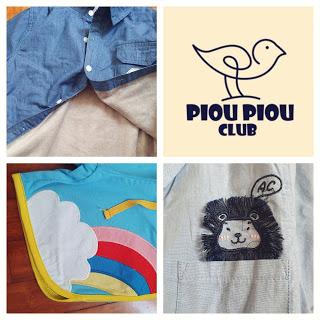 Just look at the
intricate details
in some of the designs I pick. This time round, I am getting greater than 1 year old clothes for my kiddo, haha. (This mama growing smarter already...hehe.) I am generally
very satisfied with all the pieces
except one - the YEAH PERFECT Children Boy Denim Shirt, which might seem a bit warm given the furry materinal on the inside. Was actually hoping to double it up as a top but I guess it can only be used as an outerwear (this is adding on to the 8 outerwears my boy already has, OH GAWD!)
Here's a lobang alert, all the pieces are currently on 30% discount, sales item included. It is really quite a good time to snatch some pieces off the shelf. After all, Chinese New Year is coming and if you are pantang like us, New Year MUST wear new clothes!