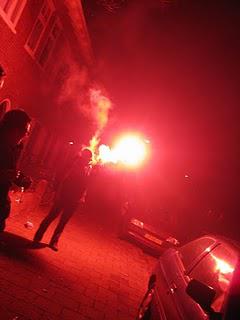 As I write this, it is quiet outside. The bombing has stopped, the fires have been put out, the riots have been doused, the smoke has more or less cleared, and, though the streets and sidewalks are still littered, the sky is once again dark at night.
No, this is not the aftermath of war. It is the aftermath of New Year celebrations in the Netherlands.
Once Sinterklaas has ended, mailboxes are nailed up or given mouths that barely allow one thin envelope to slip through. Trash cans are removed all together or boarded up. Specials on television this time of year center around trauma wards at hospitals where numerous victims of firework incidents are treated as they come to only to realize that they are one hand or eye or several fingers less.
Just after Christmas, the noises begin. Exploding firecrackers and home made bombs are continuously set off day and night in preparation for when the real-deal - the professional fireworks - are available for purchase three days prior to New Year's Eve. Those who can't wait that long skip off across the border to Germany where the good are sold year-round. Dog walking becomes an unpleasant adventure for both man and his best friend and the cat starts to spend more and more time under the bed or sofa.
My father still talks about his first New Year's in the Netherlands. "It was like walking through the streets of Baghdad!" Perhaps a better title for this entry would have been Bombs Over Breda.
I'll spare you the rant as there have been enough posts and briefings on this topic in the past (Netherlands braces itself for New Year's celebrations, Deaths, Injuries, Vandalism - Just a Peaceful New Year's Eve in Holland, At least two teens killed, hundreds arrested in New Year's festivities, New Year's Leftovers).
As for me, though the insanity of the fireworks madness irritates me and I'm always thankful that each year we emerge unscathed, I like to look on the brightside. Because there's always more positive than negative... we just tend to be more attracted to the negative.
Whether grocery shopping or just passing by someone on the street, I can't tell you how many beste wensens (best wishes-es), gelikkig nieuw jaars (happy new years), and fijn jaarwisselings (happy year changes) I have heard - and still continue to hear. It was touching to see groups of families and friends gathering together outside after the New Year countdown to pass along well-wishes to neighbors and watch the fireworks. Then, of course, there's oliebollen and champagne!
Though they can get out of hand and become highly descructive, watching the fireworks light up the sky from midnight onward is such a beautiful sight. As an American, Christmas was always the time to be with family and relish in the love and happiniess those dearest to you bring. Here in the Netherlands, I get the feeling that the Dutch have this sensation on New Year's Eve.
To cap off this post, here's my New Year celebration collection from 2010. Happy New Year!!!