It's been so cold and wet and windy recently that I was only too glad to receive a brand new winter coat from Trespass.
Trespass is a well known brand name selling all sorts of outdoor clothing, footwear and gear and it's a name that can be trusted when it comes to suitable outdoor weatherproof items.
I was and to choose any item I wanted this time round and decided to go for a new coat. I have a few but none of them really keep me both warm and dry in the rain, usually one or the other. This is the coat I chose.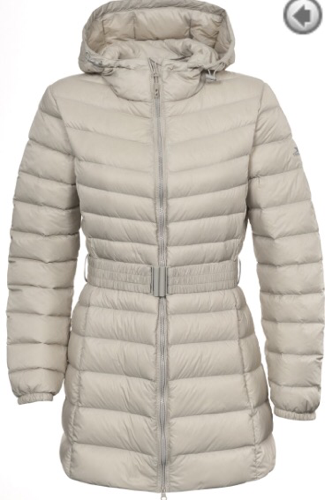 It is called the " Snowglobe down jacket and comes with 3 colour options. The one I have is the sandy shade but is more of a cream colour and quite light.
"80%down/20%feather padding, this jacket locks in heat where you need it and the quilted design allows freedom of movement throughout its use. With a full length zip that opens from both ends, the jacket has a grown on hood with drawcord and fully elasticated cuffs, the two pockets include a stuff sac that you can roll up the jacket and fold it into for easy storage."
The feather and down padding, is I believe the same stuff you find inside the more "posher" duvets- those you pay a little more for to keep warmer. This coat is quite deceptive because when you pick it up it feels very very lightweight, and I though because of how light it is it would not keep me that warm. It is actually very good at keeping the wearer warm, it's one of those costs that you have to take off as soon as you get to a warm place because of the insulation it gives.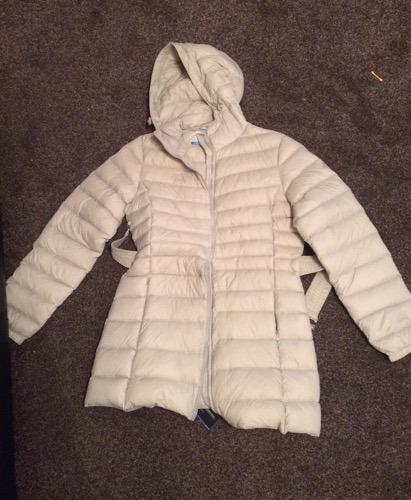 For a "jacket" it's a very generous length which gives added warmth. I did find the belt slightly tricky at first it's a little like a 2 piece metallic puzzle which locks together.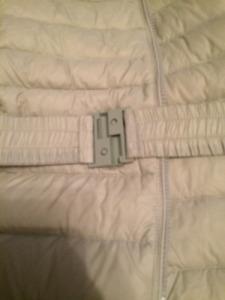 There is a big hood too which can be pulled to fit a bit better and if you tie the loops it helps it stay up a little better. There are only 2 pockets on this jacket, in the usual places. These pockets are pretty deep so do hold a lot of bits, but I would of liked to perhaps seen an inside pocket too.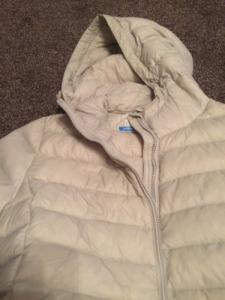 As for rain defensive and the waterproof features, yes they totally work. I can almost guarantee that everyday recently at 3pm, the heavens will open on the way to school and I then have to wait 5/10 minutes outside until Jordanna comes out. The coat keeps me incredibly dry. I can even seen the rain hitting the coat and simply running off. Once home it seems to dry off very quickly too. Meaning it's an extremely useful and functional weatherproof coat which also looks good on too.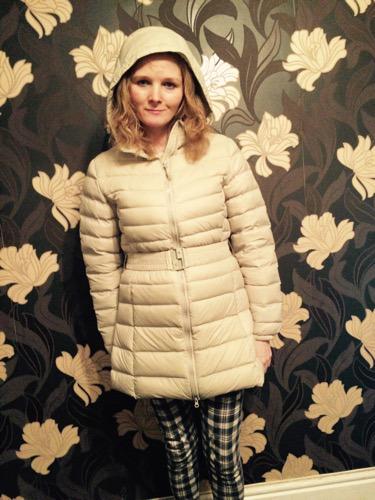 It costs £69.99 and worth the investment as I'm sure this will last a good few years through many cold winters, saving the need to shell out on rubbish coats year after year.