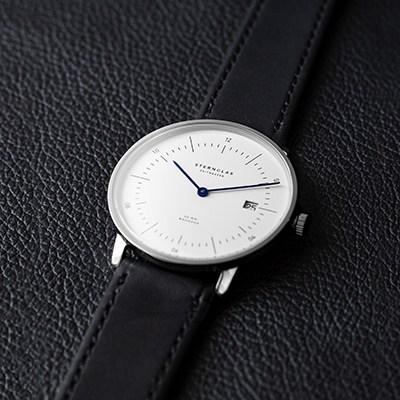 In 1919, architect Walter Gropius opened the Bauhaus art school in Weimar, Germany. This was the starting point of a new take on the way people create art and craft. The Bauhaus vision proposed an approach where art mixes with craft, all while keeping it down to a minimum of means of expression. This is a bold artistic endeavor, to boil down a creative product down to its essence, but, even so, many artists and craftspeople have taken on the Bauhaus challenge to express as much meaning as possible with the least means. This approach has continued to develop and transform over time - later, even Pablo Picasso made a statement in this spirit, claiming that "art is the elimination of the unnecessary." At the moment, this approach is seen very much in the Nordic minimalist design, but also in the creations of certain German labels. In many ways, it can be argues that most things we use today have been influenced by the Bauhaus movement and the idea that "form follows function".
Today, even though we are seeing a slight come-back of a highly decorative approach in art and craft, many brands still create practical items made in the minimalist Bauhaus spirit. This approach is seen very much in watchmaking, where brands such as Sternglas have taken this idea to the core of their company's concept.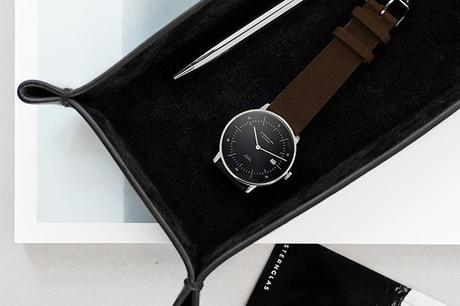 Sternglas has recently launched their newest model, the NAOS. This watch is a great expression of the German brand's values, vision and aesthetic. The NAOS places a great accent on simplicity and practicality (as seen in the numbers size and clearly defined indicators). In terms of vision, it is clearly in line with the craft-meets-style mindset proposed almost 100 years ago by Gropius, by using a clean design based on clear geometric elements. Overall, a watch for those who love a lasting style. "Art and technology. A new unity. - the principles of Bauhaus." - is how the brand describes its watch, explaining that with the NAOS they wanted to create the highest expression of this concept, combined with the maximum reduction to the essentials. The product statement continues with: "That is what we are aiming for. The NAOS: Subtle with a dial diameter of 38 mm, but still sophisticated and exclusive by the use of the finely domed sapphire glass. The delicate tuned rhythm of lines, numbers and shapes prevents any conflict due to its simplicity, making it your ideal and universal companion. We have basically renounced unnecessary embellishments, but not quality. The case features fine and polished 316L stainless steel and a fourfold screwed case back. Quality-oriented, but at just 43 g very unobtrusive. The core of it: the movement of the caliber 714 by the proven and traditional Swiss manufacturer Ronda. With a very remarkable battery running time of 5 years and a precision of +20/-10 seconds/month a solid and functional timepiece. The NAOS - a timepiece, honest, functional and to the point."
Those with interest in the technical aspects of the watch will be glad to learn that the NAOS features are:
38 mm diameter
RONDA Caliber 714 movement
24-month guarantee
Domed sapphire glass
Waterproof up to 50m (5 ATM)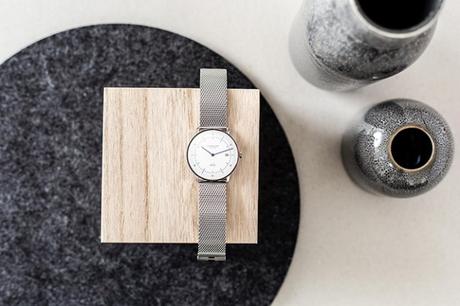 The reason why this minimalist approach is so successful is because in today's very hectic lifestyle, many people focus on keeping up with the technology that develops so rapidly and thus don't have much time to put together complicated outfits. Thus, lots of fans of great watchmaking want to wear pieces such as the NAOS, which can be worn with everything and everywhere. With its simple lines, clean design and subtle details, a watch such as the Sternglas NAOS can be worn with most types of clothes: it can be worn with a suit at the office, it can be worn with a casual shorts and polo shirt outfit and it even works with a highly formal evening outfit - especially the black version, as the watch comes both with a black and white dial. Moreover, the neutral straps (and that includes the metallic one) are neutral and thus work with any colors or patterns. The paced rhythm of the lines and the basic font - not extremely indicative of anything else but simplicity, make it be a rather universal design thus avoiding any conflict with any clothes you may be wearing. For example, if you wear a modern Japanese-styles jacket, watch whose numbers are in a gothic font may clash to your disadvantage. This is why a watch such as the Sternglas NAOS is versatile and can be carried from day to night without much care for contrasting with your outfit in a negative way. In many ways, this concept goes back to the original Bauhaus spirit, namely to be practical and good-looking at the same time.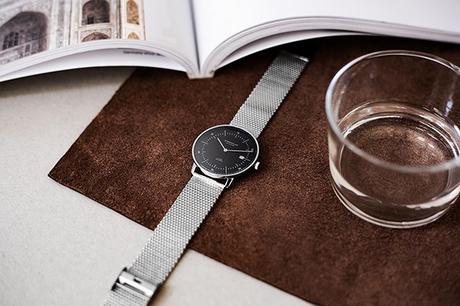 In many ways, watches are more than just time-telling devices: in the end, everyone has a phone or tablet. Watches are veritable style statements, they are ways of punctuating your outfit and to communicate some ideas about who you are to everyone else, acting as a business card. But, above all, they are adoring pieces, which, through their style and quality can have the ability to improve your mood and give you a great attitude. And that is what style is really all about.
Fraquoh and Franchomme
Further reading:
Three things to look for when buying a watch Can you buy quality watches at an affordable price? Style Guide: What is a go-to watch? The four elements every sports watch should have Details you should know about watches The guide to dive watches The three features every dress watch should have 3 reasons a watch with a brand history is worth it 4 tips on buying an investment watch 3 reasons to wear a great watch What makes a quality watch? The complete guide to choosing a watch Universality in elegance: Finding the perfect watch Emotion and design: The aesthetics of watches 3 reasons to buy a preowned watch How to match your watch to your clothes The guide to minimal watches
P.S. We want to hear from you! What do you think of the new Sternglas NAOS? Which version do you prefer: white or black? Why? Share your feedback, questions or thoughts in the comments below! For more articles on style, fashion tips and cultural insights, you can subscribe to Attire Club via e-mail or follow us on Facebook, Twitter or Instagram!