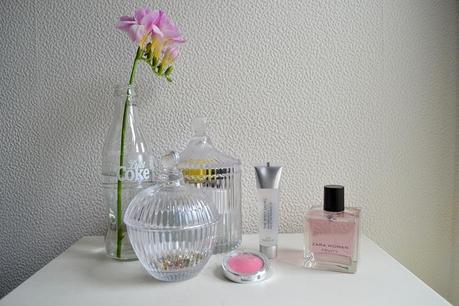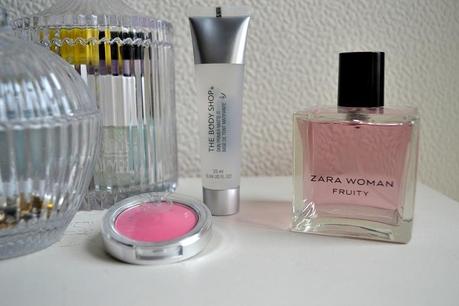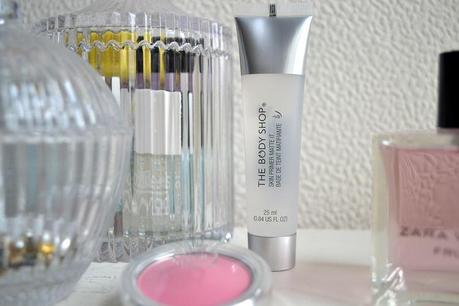 As mentioned in my previous post I splurged on a couple of new products this week, including the Body Shop, a new Zara perfume, and a white iPad 4. Also featured in this post are my new vintage glass sweet jars that were in the sale from Laura Ashley. My current new obsession is glassware; I wanted a couple of interesting pieces for my room, however I think the best place to find pieces such as these are in charity shops, car boots, and jumble sales.
Onto this weeks beauty products - first up is the Zara Woman Perfume in Fruity £9.95. I used up my favorite everyday Zara perfume last week so picked up this, and selected one other. For Spring/Summer I love investing in a new perfume with a sweet fruity & citrus scent, with this one containing a combination of some of my favorite scents: grapefruit, rose, amber, vanilla, & sandalwood, it is perfect, and is also the ideal size to fit in your handbag. Zara have a wide range of perfume and it's so inexpensive. I guarantee they'll have a scent you love. In this particular range they also do an Oriental, Floral & Apple Juice, and at £9.95 a piece you may as well pick up all four.
Yesterday I popped into the Body Shop to pick up the Moisture Foundation with SPF 15 in 05 £13 and the Lightening Touche Pen in 03 £14, plus a browse for a third product to get the 3 for 2. Unfortunately they were out of stock of my all-time favorite foundation, so after a browse at the make-up counter I invested in two new products to try. During the past few weeks I've been doing some research on foundation primers, so picked up the Body Shop's best seller Skin Primer Matte It £12 on a whim. I tested this product in store first - it's a lightweight unscented gel and oh my it's so damn soft. After reading some of my favorite beauty blogs the Laura Mercier Foundation Primer £28 seems to be hit, coming in three types, the normal foundation primer, the oil-fee & the hydrating. This beauty product is next on my list. The Body Shop do two primers, Matte It which is ideal for normal to oily skin or Moisturise It for dry skin (unfortunately Moisturise It is currently out of stock online but check in store). After cleansing your face, if you're using Matte-It apply your usual moisturiser before, or if you're using Moisturise It this product already contains a moisturiser so essentially it is a moisturiser and primer in one. The second product I picked up was the Body Shop All-In-One Cheek Colour in 05 Bubblegum £8. My current everyday blusher is the Body Shop Baked-To-Last Blush in 01 Petal £12. I just love pink rosy cheeks, especially during the winter. This bubblegum shade is a warm pink and I love how pigmented their blushes are. The lightweight powder is ideal for building color and they blend really well. There's also a selection of coral and pink shades that are perfect for Spring/Summer (essiebutton you best check out those corals girllll).
The next few weeks I've got several reviews lined up (if you would like any reviews or write ups please drop me an email on the address provided) and a possible Noble Macmillan giveaway. I also won a gorgeous white clutch from Betty Brice in their Easter giveaway which I'm so exited to style with denim. I also just wanted to say thank you to all the positive feedback I have had recently, I am truly so grateful to all of you that read my blog.