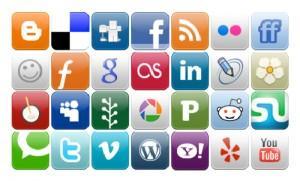 Social networks are a relatively new phenomenon having grown exponentially in popularity over the last 10 years. With Facebook leading the way at an average of 750 million unique visitors per month, the social network boom continues to grow.
Why social media attracts people
Social media provides many advantages, the most obvious being that social networks offer people outlets for social interaction across barriers and beyond typical limitations of space and distance. Social networks allow people to stay connected to friends or family members, build professional relationships, share interests and ideas, promote business and projects. As a direct result of social media's success, more networks are being created every day.
Aren't there too many social networks?
With so many options to choose from, trying to create a meaningful online presence can be both confusing and frustrating. Not everyone can manage having several different profiles and it's likely that your friends, niche market, or professional contacts are not spread across one social network.
Furthermore, some users complain about concern for privacy and lack of control. Some Facebook users, for example, don't necessarily want to post something to all 300 people on their network, yet constantly fine-tuning a profile to manage sharing options and privacy takes up a lot of time. Other users simply get disinterested or overwhelmed by their social media interactions. Still yet, others are searching for simple ways to build on their interests and connect with the people that matter the most.
New possibilities
New social networks being created are capitalizing on the challenges of their predecessors. Nextdoor, for example, is a new social network designed for those who want to sustain and expand on connections with the people in their own neighborhoods.
Medium is another example – it is an invitation-only social network that facilitates sharing more meaningful, deeply-valued content. Combining online commerce with social networking, Pheed is a social network that allows users to monetize their text, photos, audio, and video and is currently dominated by celebrities.
Thumb, established in 2010, allows users to engage and interact by voting on images – by giving a thumbs up or thumbs down. It is a popular social networking site that allows people to exchange quick opinions.
There are many other social networks being created all the time. The single trend that unifies most of them is that they are all honing in on niches or focusing on a specific concept, industry or persuasion. There are many opportunities for brands and organizations too. Many are spearheading the social media trend with their very own exclusive social networks targeted towards the markets they serve. Consider, for example, Proctor & Gamble's Being Girl, Footlocker's Sneakerpedia, and AARP's Life Reimagined.
How to Choose a Network
With so many possibilities and more being created every year, how do you choose the right social network? First – consider the reasons why you want to establish a social media presence. This will help you fine-tune your options. If it is to stay closely connected to old friends scattered across the globe, Facebook is probably your best bet – and that's only if those friends have Facebook accounts. If it's to share quick, brief updates without all the fluff, maybe Twitter's simple and focused platform is best. Do you want an effective medium to share professional photos or videos with other artists? Are you an organization looking for a social media platform your workers can use internally? Are you a business building a brand and trying to expand your consumer base? Organize your main priorities and consider your options accordingly.
Remember that you have the option to explore and keep your eyes open – social media will continue to grow. Specifically, look out for more flexible tools, more user-control, and more niche-oriented platforms.
Author's bio: Alice McLean is a writer at bestdissertation.com with background in history, sociology and internet marketing.  Now she is writing her first book on internet marketing.