As mentioned last week, we are happy to announce the release of our new iOS Display SDK, version 4.5.0, which now officially supports iOS 8!
This new Smart AdServer SDK, compliant with iOS 8, includes :
- Compatibility with iOS8, Swift and Xcode 6
- Screen size support and optimisations for the iPhone 6 and the iPhone 6 Plus
- A dedicated Swift Sample
- Minor bug fixes and improvements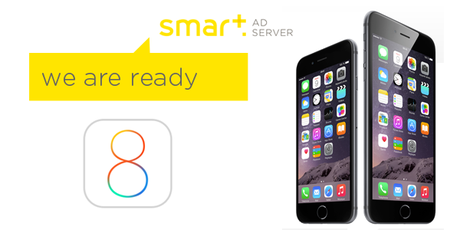 We highly recommend all Smart AdServer Publishers to integrate this latest SDK to take advantage of the latest Display SDK features. We've created a Migration Guide to help developer with this major update.
Why Smart AdServer Publishers should upgrade to the new Display SDK (4.5.0)?
With iOS 8, Apple has brought in several new features and introduced Xcode 6 as a new build environment. Additionally, they have deprecated certain APIs that are accessed by Display SDK 4.4.1 and earlier. If applications are built with Xcode 6 they need to use this new SDK version.
Learn more in Smart AdServer interface or contact our team.
email