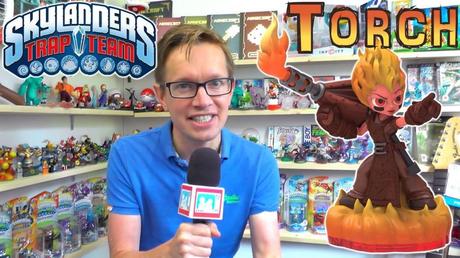 Is that a new Skylander? Why yes it is! Andy from Family Gamer TV has been having a look at a new character revealed in this month's Game Informer magazine, and it's a core flame element Skylander called Torch. She's packing a huge flame thrower and an awesome hairdo; check her out in this video!
Flame is an unusual design as she's more human-looking than most Skylanders are; probably closer to characters like Stealth Elf than the more animal-like Swap Force or Giants. She's really detailed though, with some worn and beaten leather armor and that amazing flame thrower with big bellows on top to really make the fire shoot far. She is a core Skylander, so no Traptanium weapons unfortunately, but she looks like an amazing addition to the team.
Excited for Trap Team but getting impatient waiting around? Then why not watch 10 Awesome Skylanders Videos to help you pass some time before the new game comes out.  If you loved this Skylanders video, follow us on Twitter for loads more amazing stories and gameplay footage, and subscribe to Family Gamer TV on YouTube.