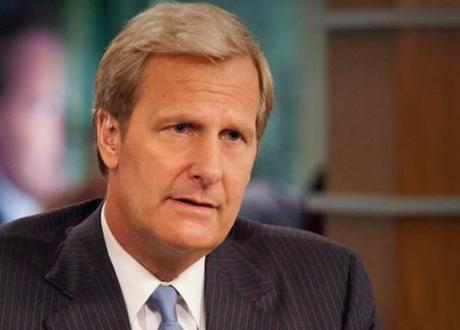 Jeff Daniels stars in The Newsroom
With UK TV schedules looking pretty uninspiring thanks to Euro 2012, the big weekend small-screen news came from across the pond. The Newsroom, the much-anticipated new show from Aaron The West Wing Sorkin, premiered on HBO on Sunday 24th June – and critics were not entirely impressed. Starring Emily Mortimer and Jeff Daniels, the series is set in a fictional New York cable newsroom and follows the trials and tribulations of TV journalists.
Emily Nussbaum slammed The Newsroom in The New Yorker for patronising viewers and for relying on faux intelligent banter. "Sorkin's shows are the type that people who never watch TV are always claiming are better than anything else on TV," said Nussbaum. At The New York Times, Alessandra Stanley conceded that the show sometimes "chokes on its own sanctimony", but insisted that The Newsroom improves in later episodes, bringing "wit, sophistication and manic energy".
Back in the UK, relief from the football came in the shape of Davina McCall-hosted game show The Million Pound Drop and the return of reality show Big Brother. More high-brow distraction was provided by a small-screen version of Julius Caesar, set in an East African state. "I had to get over the big block, the feeling of dread I get when there are two and a half hours of Shakespearean tragedy stretching out terrifyingly ahead," wrote Sam Wollaston in The Guardian. "I'll be brutally honest: I enjoyed it. Not just enjoyed; I think I actually got something out of it, too." And Chris Packham-fronted documentary series Secrets of Our Living Planet continued on BBC 2: "Last night, he was focusing on the nitrogen cycle, a subject that sounds a little GCSE, until you find that it is illustrated by one of the more endearing golf hazards in existence," said Tom Sutcliffe in The Independent.
Watch The Newsroom trailer below. Has Aaron Sorkin lost his touch?