(Image source: WSJ)
Sewing machines have certainly come a long way. A May 12, 2011 Wall Street Journal article highlights the trend of today's computerized sewing machines.
"New multitasking sewing machines strive to be as accessible as a smartphone. Modern machines have added decorative stitches, automatic threading and touch screens for easier use. There are smartphone apps for matching thread to fabric and software that digitizes embroidery designs. With the USB port on the latest embroidery machines, users can transfer an image from laptop to sewing machine." Machines can not only sense fabric thickness, but also fabric feed…such as when a new sewist pushes or pulls the fabric ahead of the feed dogs causing uneven stitches.
Viking's Ruby includes a high-resolution touch screen that not only allows you to select and view your stitch design (embroidery or decorative stitching), but also allows you to manipulate the stitching from the screen on your sewing Viking Ruby.
Brother's Quattro 6000D has a "camera-like feature built in over the needle that shows what the needle "sees" on the HD display. Users get a detailed image of hard-to-see places, eliminating the need for guessing about where to drop the needle." Brother compares it to having a GPS on your sewing machine.
All these features are intended to make sewing easier for the experienced sewist, time-saving even and less scary or easier-to-learn for the new sewist. But nonetheless, it still comes down to the sewist and his/her skill at knowing how to use which stitch for which application. Although, some modern sewists are also pushing the envelope on that, too. I just finished a Twitter chat where several participants were discussing machine trapunto in modern designs…less fussy.
There are also computerized sergers that will tell you which thread to lay in first, then visually cue you to the next thread to lay in.
Even if you're not in the market for a new machine, it would be worth going to your local sewing machine dealer to see what the new machines are offering…just to appreciate how far we've come from treadle machines.
Power Tip: Surge Protector For Your Sewing Machine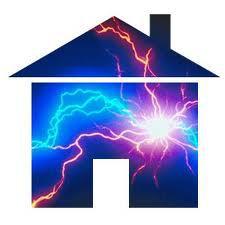 (Image source: greensector-reviews.com)
If you have made the investment for a computerized sewing machine, you should take the extra precaution to plug it into a surge protector. Not just a power strip, so you can plug in your Ottlite and your mini-iron…that won't help diffuse power surges.
A surge protector will have a green light on the strip to show that the protection is working; some surge protectors have an additional red light to indicate if there is faulty wiring coming into the surge protector. If you don't have the additional red light, the green light will turn red when there is a fault or disruption. If you ever see a red light on your surge protector, replace the surge protector because at that point it's no longer working.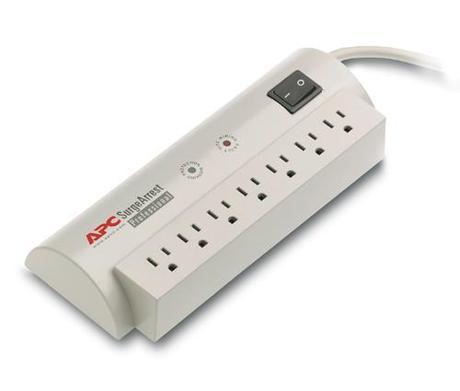 Example of a surge protector (Image source: APC)
APC is a well-respected surge protector manufacturer. You can find these in most office supply or computer stores. If you have a sewing or embroidery business, you might want to consider a surge protector with a battery back-up. A battery back-up provides you with an amount of time that you will be provided power, so you can shut down your machine, or you could even continue to sew.
Take a moment to go look and see if you definitely have a surge protector or if you only have a power strip…you would do it for your home computer, so why not for your computerized sewing machine?