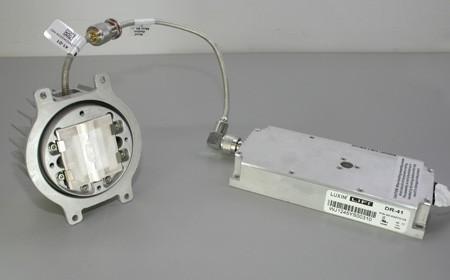 LUXIM plasma lighting system. (Credit: National Lighting Product Information Program)
The National Lighting Product Information Program (NLPIP) at Rensselaer Polytechnic Institute's Lighting Research Center (LRC) recently released its latest publication, "Lighting Answers: Plasma Lighting Systems."
Modern plasma lamps are a family of light sources that generate light by exciting a plasma inside a closed transparent burner or bulb using radio frequency power. Typically, such lamps use a noble gas or a mixture of these gases and additional materials such as metal halides, sodium, mercury or sulfur. In modern plasma lamps, a waveguide is used to constrain and focus the electrical field into the plasma.
Plasma lighting systems, also known as electrodeless high-intensity discharge, light-emitting plasma, high-efficiency plasma, or advanced plasma lighting are emerging in the marketplace primarily for high-bay and outdoor lighting applications.
Many specifiers and others involved with lighting technologies have heard of plasma lighting systems, but would like more information on how plasma compares with other light sources, regarding performance characteristics such as light output, system efficacy, color characteristics, lumen maintenance, and rated life. "Lighting Answers: Plasma Lighting Systems" provides straightforward information on these performance characteristics and others such as operating orientation, dimming, warm-up and restrike times, electromagnetic compatibility, and ultraviolet radiation.
The report details findings from NLPIP's study of plasma lighting systems, conducted from 2012 to 2013, and responses from a survey of more than 300 lighting specifiers who provided their opinions on the application of plasma lighting systems and information on any installations they had evaluated.
Key findings include:
Purchasing plasma lighting systems can be difficult.
The tested plasma lighting systems have system efficacies comparable to conventional sources used for high-bay and outdoor lighting applications.
The tested plasma lighting systems have color rendering characteristics comparable to conventional sources although they have a greenish-white tint.
The tested plasma lighting systems could be dimmed but dimming impacts color and system efficacy.
 
"NLPIP's mission is to rapidly provide the best information available on energy-efficient lighting products," said Leora Radetsky, LRC research scientist, principal investigator, and author of the report. "This plasma lighting systems report provides independent, objective and reliable information not found elsewhere that is critical for specifiers, electric utilities, and others involved with lighting technologies to understand how best to incorporate this emerging technology."