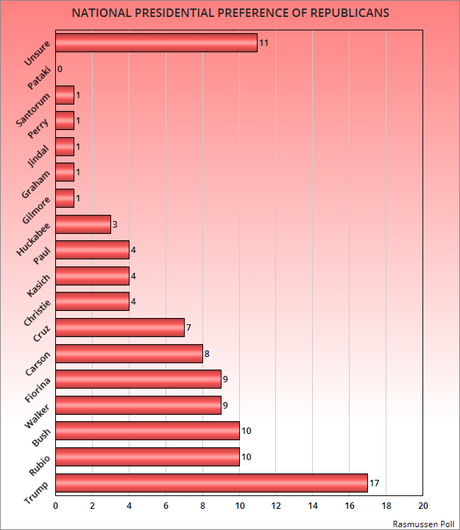 This chart represents the results of the new Rasmussen Poll that was done on August 9th and 10th of a random national sample of 651 likely GOP primary voters, and has a margin of error of 4 points.
The survey shows Donald Trump still has a significant lead nationally, but his support has dropped from what it was in this same poll in late July (before the debate). At that time, he had the support of 26% of national Republicans. He still has a 7 point lead over his closest competitors. That's because Scott Walker also dropped 5 points from the previous survey.
Carly Fiorina and Marco Rubio showed the biggest gains in this poll from late July. Fiorina moved up 8 points, and Rubio moved up 5 points. The other candidates, including Jeb Bush, showed very little movement.
The question the poll asked is -- has Trump peaked? Maybe he has, but I'm not convinced yet. Even if he has, he's not going away. He has tapped into the teabagger anger, and he will keep that support as long as he keeps his own angry. The teabaggers think they have found a kindred spirit in Trump -- and as long as he voices his mindless anger, they will stick with him (and many might even leave the party if he makes an independents bid for the presidency).
Trump is going to be around for a while -- even if he has peaked.