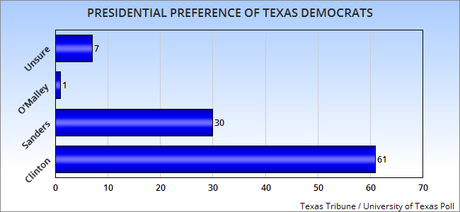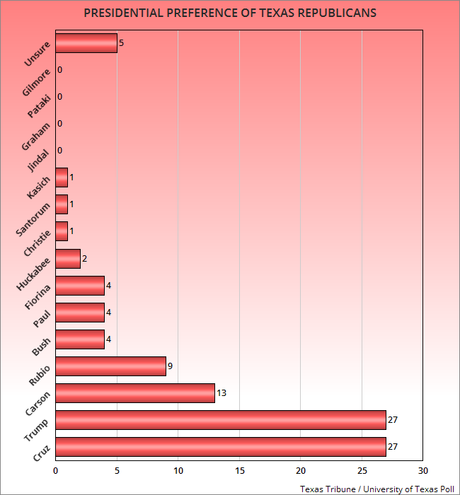 All of these charts were made from information contained in a new Texas Tribune / University of Texas Poll. The survey questioned 1200 adults in Texas between October 30th and November 8th, and has a margin of error of 2.83 points. The survey included 542 Republicans (4.21 point margin of error) and 459 Democrats (4.57 point margin of error).
Hillary Clinton is still the overwhelming choice of Texas Democrats -- doubling the support for her nearest opponent, Bernie Sanders (61% to 30%). This is very close to the national numbers in most polls.
But Texas Republicans don't mirror the national numbers for their party. Among them, Ted Cruz and Donald Trump are tied with 27% each, while Ben Carson is third with 13% (14 points behind). Marco Rubio is fourth with 9%. No one else, including Jeb Bush, gets more than 4%.
It just shows what a firm grip the teabaggers have on the Texas Republican Party. Their favorite candidates (Cruz and Trump) account for 54% of the GOP vote. The so-called "moderate" candidates do very poorly in Texas.
I found the numbers on the chart below to also be interesting. Like the voters in most other states, Texans are not very happy with either major party.