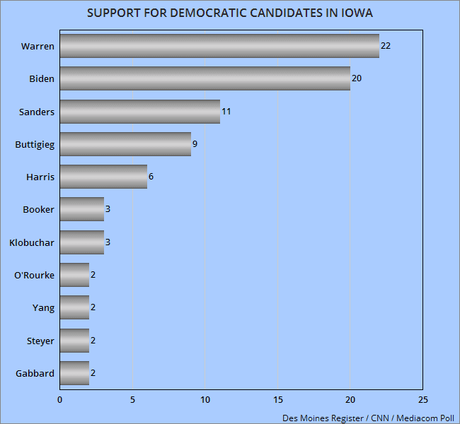 The chart above shows the results of the new Des Moines Register / CNN / Mediacom Poll of Iowa Democrats. The poll was done between September 14th and 18th of 602 likely Democratic caucus attendees in Iowa. The margin of error is 4 points.
The poll shows Elizabeth Warren leading Joe Biden by 2 points (22% to 20%). Bernie Sanders is third with 11%. They are the only candidates in double-digits.
Pete Buttigieg has 9% and Kamala Harris had 6%. Amy Klobuchar and Cory Booker each had 3%. Beto O'Rourke, Andrew Yang, Tom Steyer, and Tulsi Gabbard all had 2% support. No other candidate could get at least 2%.
The Des Moines Register said this was the first time Warren has led their poll.
Warren also leads among those who say they are considering voting for her with 71%. Others being considered are Biden (60%), Buttigieg and Harris (55%), Sanders (50%), Booker (42%), O'Rourke (38%), and Klobuchar (37%).
Support is still very fluid, with only about one in five saying their minds are made up and about 63% saying they could change their minds.