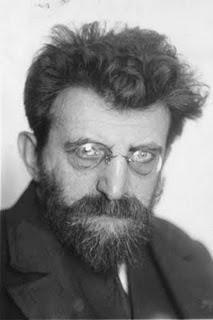 Erich Mühsam
Erich
Mühsam
David Auerbach on Hans Blumenberg: 'It is rare for [Hans Blumenberg] to "take sides" explicitly because he is often preoccupied with showing that the sides are not what we think they are.'
From a review of Interpretation: Ways of Thinking about the Sciences and the Arts
: 'If Machamer, Wolters and their contributors have their way, [the topic of interpretation]should also figure importantly in various areas of the philosophy of science, philosophy of mind and action, and practical aesthetics.'
Some chapters of this book are on Google Books
.
Michael Sandel is interviewed about his interest in political theory
Paul Feyerabend's critique of rationalist models of scientific method (ht
Siris
)
Here's a podcast of an interview with Robert Pasnau about his book
Metaphysical Themes: 1247-1671
Robert Brandom's Munich Hegel Lectures are available on-line
Here are videos of the Frankfurt Lectures on normativity going back to 2008, including talks by Brandom, Robert Pippin, Sabina Lovibond, etc.
Pippin is interviewed about Hegel and art
: 'With Hegel, the official answer to that question is that art is an intuitive, sensible mode of intelligibility of the Absolute.'
Jerome E. Copulsky reviews two books on Moses Mendelssohn
From an interview with David Cartwright, Schopenhauer's most recent English-language biographer: 'If you observe the behavior of a bulldog ant cut in two, you can understand some of Schopenhauer's basic claims.'
Peter Thompson's series on Karl Marx in the Guardian
Richard Sennett on humanism: 'Here a contrast between Pico and Spinoza is all important. Spinoza emphasized unities transcending time—timeless unities in mental space—whereas Pico dwelt on the fact of shifting time, and shifting time in everyday experience.'
A 33-minute video of Francis Fukuyama on the origins of the political order
In the
Bryn Mawr Classical Review
, David M. Johnson reviews the
Cambridge Companion to Socrates
, and Eleni Kaklamanon reviews
The Demands of Reason: an Essay on Pyrrhonian Scepticism
.
Alan Saunders interviews Peter Adamson: '
Who was Plotinus?
'
At
Philosophy Bites
,
Peter Singer talks about Henry Sidgwick's ethics
.
At
Virtual Philosopher
,
Julian Savulescu discusses moral enhancement technologies
.
Duncan Richter has a series of posts on Richard Joyce's
Myth of Morality
In a blog post about the perils of using 'and/or' in legal writing
, there is this quote from a 1942 case: 'The expression "and/or" is unfortunate. I do not think I have met it before in a will, and I hope I shall never meet it again.' And from a 1976 case: '[T]he commonly accepted meaning is that "and/or" means either "and" or "or," or both.'
I like Raymond Chandler, but never have I so desired to rip a cigarette out of someone's mouth as when I heard this 1958 interview of Chandler by Ian Fleming:
Ian Fleming Talks to Raymond Chandler 1958 from
33hirtz
on
Vimeo
.