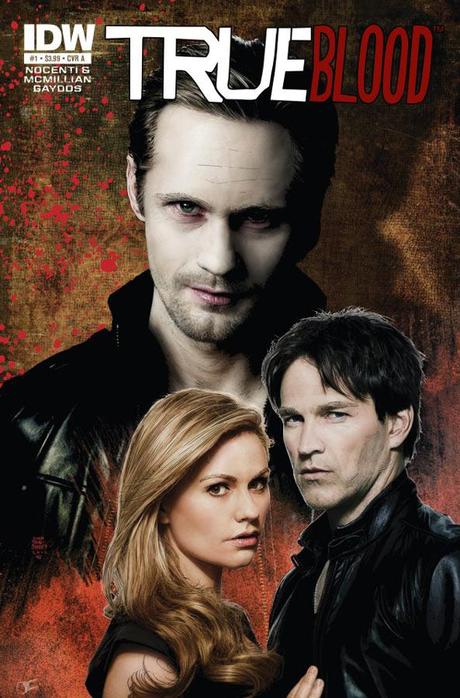 The full creative team for the new ongoing True Blood comic book series has been announced! The writers for the comic book will be Ann Nocenti and True Blood Actor Michael McMillian (Steve Newlin).  Alan Ball will be in the creative department along with Michael Gaydos doing the art work for the comic book.
IDW has posted on their Facebook page a link to pre-order the comic book and also a cover image saying True Blood #1.  At this present moment nothing has been released on what the books will be about or how they will link to the HBO show.
McMillian did co-write the second True Blood series, 'Tainted Love', and ahs been known for his Archaia series "Lucid".  He did speak to CBR News in 2011 about 'Tainted Love' and his view on comics expanding on True Blood.  This is what he had to say:
"I think the comic can play a role in exploring areas of the 'True Blood' world that the show may not be able to get to. Marc [Andreyko] came up with the wonderful idea of Tru Blood bottles getting contaminated with an element that causes vampires to go crazy. Since the bottled blood is the link between vampire/human relations, it's such a great device to mess with. Tainting that symbolic connection seemed like an apt reflection of where vampire/human relations were left off in Season 3. On another level, the theme of contamination is at play with the main cast of characters. Their lives have been drastically affected since Bill walked into Sookie's life. Are they themselves tainted? A lot of our characters kick off the series with a longing to return to the way things were before… to reclaim a feeling of lost, perhaps even false, innocence."
The fourth series is following three other miniseries that is based on the show: 'True Blood: All Together Now', 'True Blood: Tainted Love', 'True Blood: The French Quarter'.  Can't wait to see how they take the show in this new direction with this comic book. It is slated to begin in May.
Source: Comic Book Resources – "Nocenti, Gaydos Join McMillian for "True Blood" Ongoing
Image Credits: IDW Publishing and HBO, Inc.