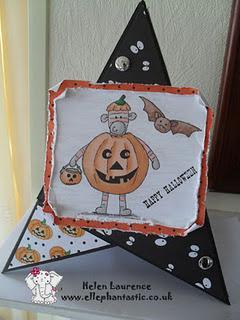 The new

Odds & Soxlets craft challenge

has now launched!!!
Grab yourself some awesome freebies & have a go at the Halloween themed challenge for the chance to win 1 of 3 prizes!!!
I have used the Toots free Halloween image & made a teepee card using Nikki's tutorial from Ellephantastic challenges which you can find HERE
This is my 2nd to last card before I pack all my craft stuff up ready for moving!!