"The H. sapiens Problem" by Garry Rogers
Yay! The editing, rewriting, and proofreading are complete.
The eBook is available now and the print edition will be available in a few weeks. Here's how it starts: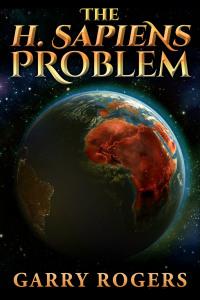 Corr Syl saw the bomb, shouted a warning, and stepped in front of Rhya. As the blast of burning air and shrapnel struck, he ricocheted off Rhya and slammed into a stone bench. Rhya pulled herself up, saw the assassins coming out of the tunnel, snatched up Corr's scorched body, and ran.
Plot

A conflict driven by hatred and greed ensnares Corr Syl and Rhya Bright, two beautiful young warriors engaged in the tentative first steps of romance. Humans from a neighboring city bring on the conflict. The two warriors, descended from rabbits, but with the upright bipedal form we think of as human, apply their brilliant minds and years of training to solving the conflict. Their ingenious solution has broad consequences that could provoke a global war. However, the warriors take the risk because it offers a new hope for correcting a flaw in the human species that makes humans so irresponsible that their behavior endangers the entire planet. Along the way, you meet a truly evil spider (with spider shape), share Corr Syl's clumsy comedic aspirations, endure silly games by other warriors, and wonder at Rhya Bright's enthusiasm for wrecking enemies who happen along. You will also meet Z99, an intelligent (though a bit egotistical) warship whose quantum manipulations of dark energy allow travel through the multiverse.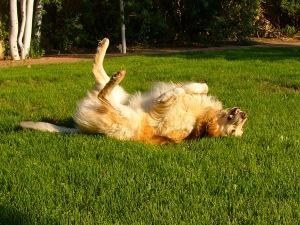 WHOOPEE!
eBook Details
Publication Date:  Dec. 7, 2016
Publisher:  Amazon/Coldwater Press
Size:  3499 KB, 88,000 words
ASIN: B01N6EOQ1T
Audience:  Teens
Price:  $ 2.99
Available:  Now from Amazon.com
Print Details
Publication Date:  Jan   , 2017
Publisher:  Coldwater Press
Size:  6" x  9", 88,000 words, 390 pages
ISBN:
Classification: LCC    DDC
Audience:   Teens
Price:      $ 24.95
Available:  January, 2017 (estimated)
Story Provenance — Corr Syl Stories Merged
The principal conflict in the earlier books, Warrior and Terrible, is between the Tsaeb and the irresponsible human species. I considered spinning off stand-alone Tsaeb stories, but I was more interested in developing the Tsaeb future. Thus,Terrible is not really an independent story. It is the concluding chapter in the Tsaeb-human conflict. In fact, reviewers said that "Terrible" was difficult to follow without first having read "Warrior." So, all in all, it seemed best to rewrite and unify the stories. I removed some of the slow spots, added some character details, resolved the conflict, and set up the approaching confrontation with two alien species, a confrontation that humans must face along with the rest of the Tsaeb in a struggle to survive a massive onslaught by two advanced alien species.  I have always loved space opera. So, the next book will have space ships, grand starry vistas, and desperate flights across the cosmos.
Reviews